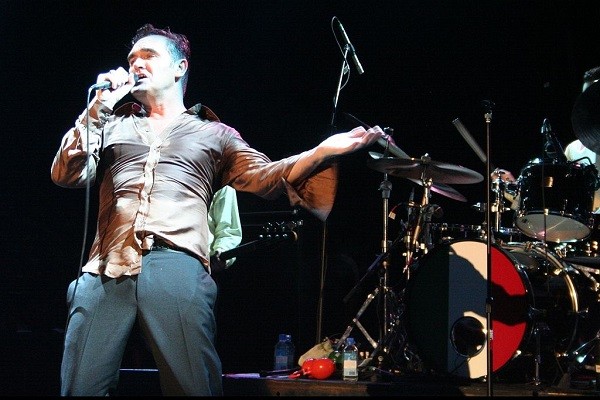 San Antonio Current / James Courtney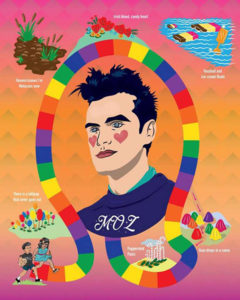 As excitement builds for a rare, already-sold out Morrissey show at The Tobin Center on November 17, fans, barely able to contain their delight, are finding ways to express their adoration and welcome the emo icon to our neck of the woods.
While the godfather of highly-emotive, melodramatic alternative pop-rock has been returning to his wordsmith roots of late—with the release of an autobiography in 2013 and a novel in 2015—San Antonians and our fellow South Texans, like many around the world who are curiously drawn to Moz's progressive-macho charisma, remain transfixed by the man's music. Since making a return to recording in 2004, after a 7 year hiatus, Morrissey has released four solo albums, which have received, on the whole, mixed reviews—though the most recent, 2014's World Peace is None of Your Business, is easily the best among them. But none of that music critic noise matters much to any of the impressive number of Moz devotees in this town, who follow their idol with a near-religious fervor.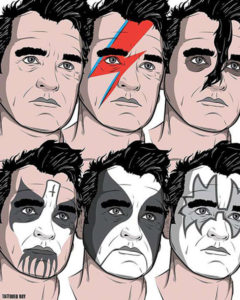 To be sure, Morrissey is a worldwide star, and has been ever since his days with The Smiths, with staunch supporters and rabid fans spread out across the globe. But, there's got to be something to his particularly robust popularity here in South Texas. Some might harshly argue that Morrissey's popularity in the region is, at least in part, owing to the fact that we are stuck in the past. Viewed through this light, our obsession with Moz is painted as nothing more than nostalgia (at best) or a lack of musical adventurousness (at worst).
Perhaps a more positive and culturally significant reason for the crass crooner's cult following in the region is the similarity his music bears, at least in mood and emotional depth/vulnerability, to genres that have long been staples here, like ranchera, corrido, and even country music. There's a cry-it-out quality to these types of music that seems to satisfy something deep within the South Texan psyche. There's just something gratifying and cathartic, if not particularly productive, in picking at emotional scabs and confessing, along with a favorite song, one's unworthiness, angst, hopeless longing, or just plain sadness.
As far as proof of his flock of followers here in town, aside from the quickness with which the Tobin show sold out, one need look no further than an art show that's opening on November 4 at Presa House Gallery. The exhibit, entitled "November Spawned a Moz Show" after the Morrissey classic "November Spawned a Monster," will feature Morrissey-themed work by an impressive roster of 31 artists from across the stylistic spectrum, including James Medrano, Bryson Brooks, Amada Miller, Christopher Montoya, Danielle Cunningham, and many more. The exhibit will even be open before and after the Tobin show on November 17, so fans can gather and hold onto the night as long as they can.