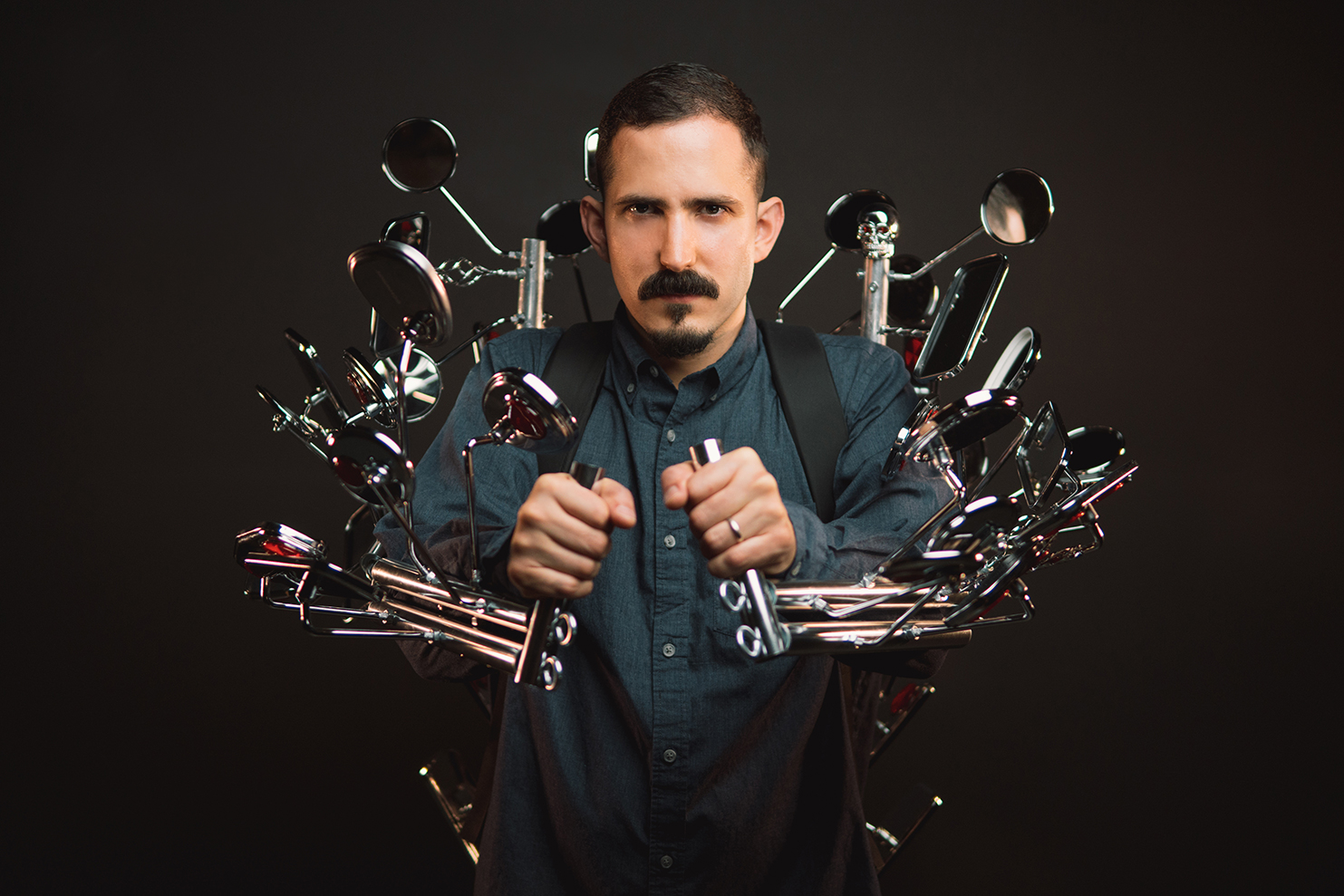 San Antonio Current / Bryan Rinduff
To call local artist Jimmy James Canales a "wildcard" might distract from the conceptual depth and technical mastery of his work, but it accurately alludes to the fact that he's anything but predictable. Over the years he's had his knuckles tattooed in the McNay's Chiego Lecture Hall, moved into UTSA's Satellite Space for a period of three weeks, turned Artpace's Main Avenue windows into a stage for a "series of exploits, experiments and performances," and left memorable impressions with public appearances disguised as would-be urban legends covered in foliage (Monte Man) and raccoon tails (Mapache Man).
Drawing creative inspiration from the likes of filmmaker and occultist Kenneth Anger, pioneering performance artist Joan Jonas, the sci-fi flick Elysium and points beyond, Canales' new body of work "Para Chrome" takes shape in "armor, exoskeletons and customized packs" artfully rendered in metal tubing, PVC pipe, parachute cords, low-rider bicycle parts and other odds and ends. While certain pieces are wearable and play into Canales' performative practice, others are presented as sculptural objects hung with chain from bakers' racks.
To enhance the "Para Chrome" experience, artist/curator Rigoberto Luna concocted a music and video montage, and Canales worked with local filmmakers Mark and Angela Walley to create two short films (one of which features Canales wearing the show's key piece while gazing in a mirror and combing his hair and mustache as Roberta Flack's "The First Time Ever I Saw Your Face" plays in the background).
Presented by Presa House Gallery as a pop-up at FL!GHT — which has been outfitted with an appropriately retro-futuristic grid rendered with black tape — the exhibition comes to a close with a costumed reception complete with live music from "psychedelic-country-punk-pop" outfit Snowbyrd.