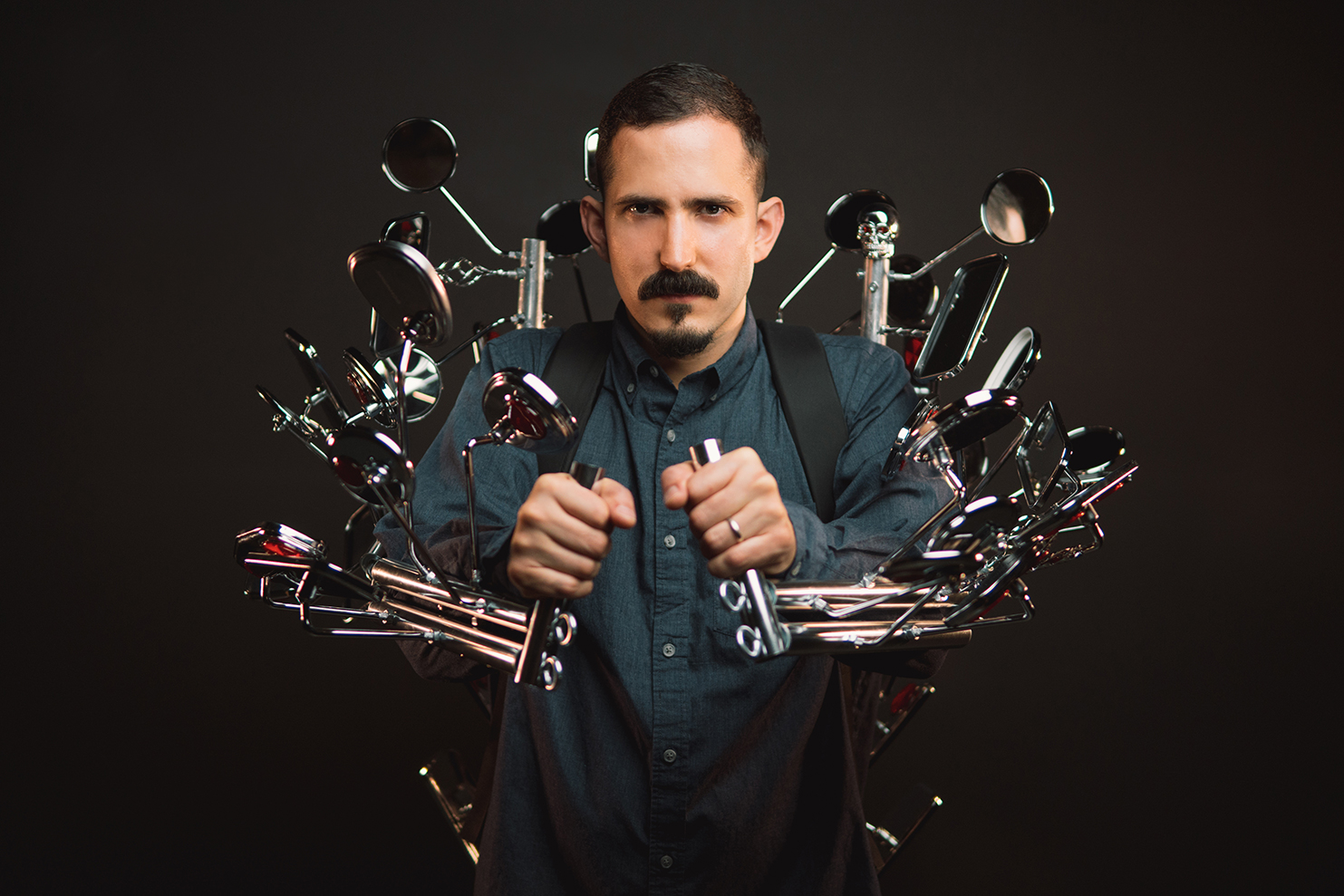 Glasstire
 / 
Neil Fauerso
One of the elemental urges of science fiction is the desire for body customization. Under the illusory guise of "improvement," science fiction is often the dream of discarding our glumly efficient flesh bodies that wrinkle and rot away for something that can be buffed and shined at a distance. Since the pharaohs of Egypt treated preparation to the afterlife as their own personal, never-ending Met Gala, and probably well before that, humans have wanted, on a fairly profound level, to floss out.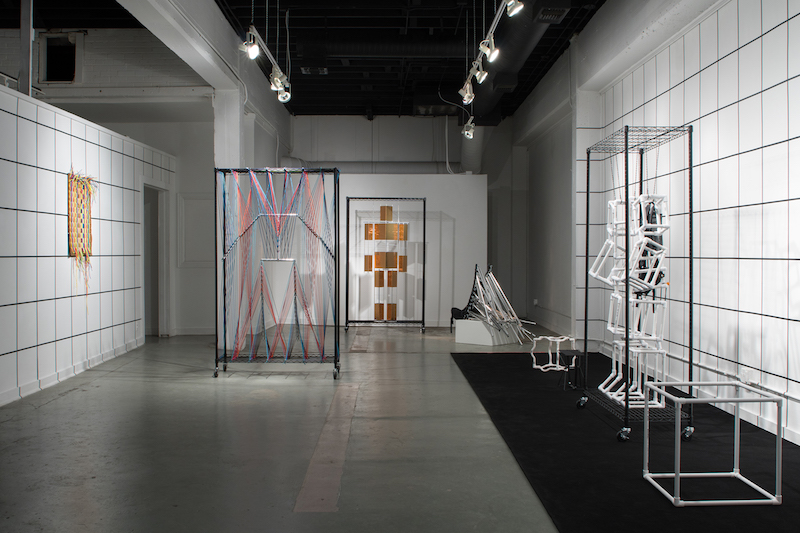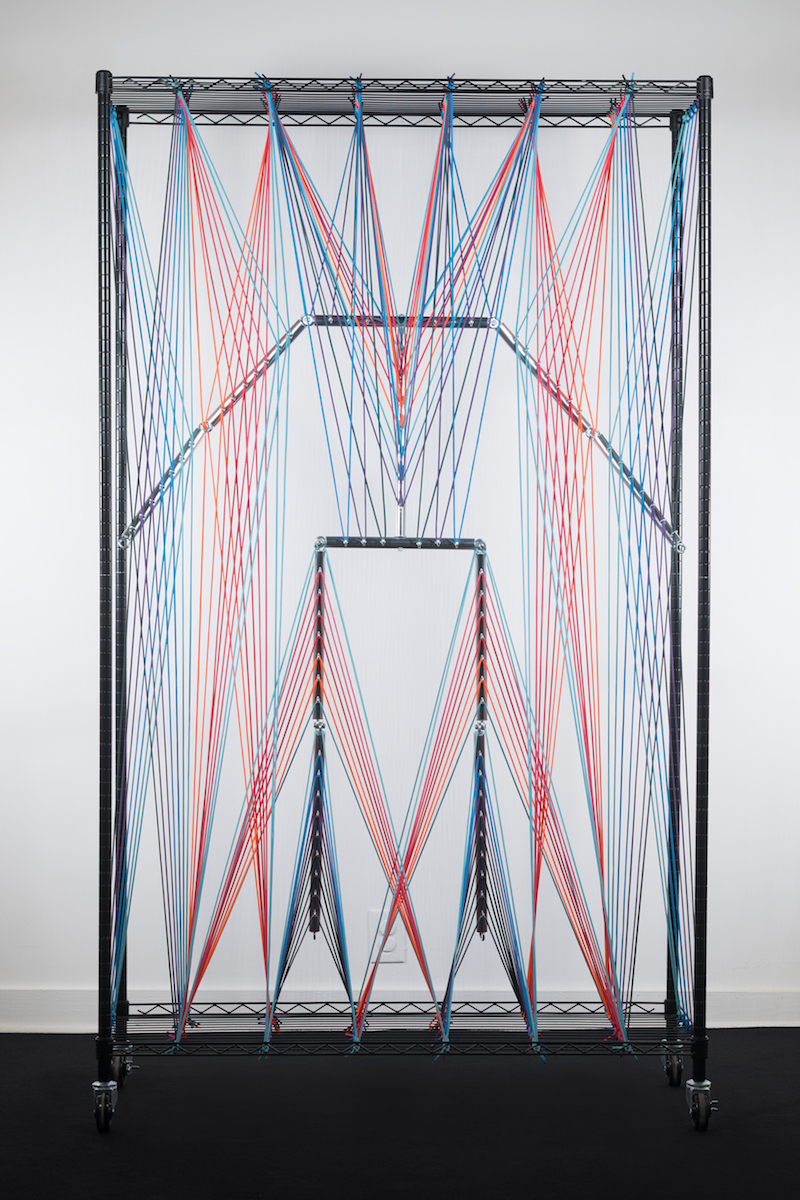 Jimmy James Canales' playful and brilliant show,
Para Chrome
, at the Presa House pop up at Fl!ght Gallery in the Blue Star Complex in San Antonio, cleverly finds the patterned bridge of the vanity of male fantasia, one that spans science fiction and south Texas lowrider culture. In the elaborate show, Canales screens video clips of vintage sci-fi cyborgs and robots, paints the walls into grids, crafts "trees" and other abstractly natural objects out of PVC and metal, forms intricate, taut line pieces with parachute cord (like technicolor Fred Sandback works), and most strikingly, makes "suits" in the absurdist, swagged-out spirit of Nick Cave's Soundsuits.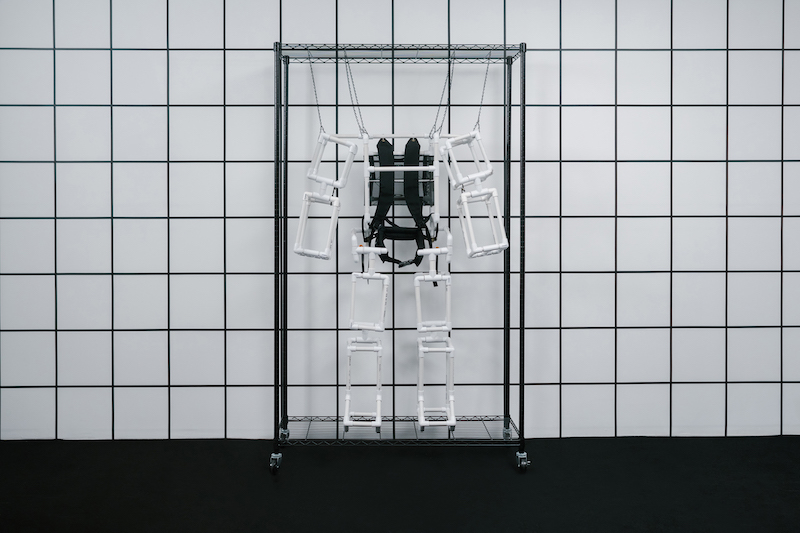 Canales' suits are inherently impractical. A piece titled
PVCS-1
is an exoskeleton that when worn makes the act of moving more clipped and awkward. It resembles the CGI wireframes that are the genesis of eventually intense and clanging mech suits directors like James Cameron are fond of in
Aliens
and
Avatar
, and shows the corny roots of being "extreme." In the same way that ziplining is both exhilarating and embarrassing, Canales' suits are simultaneously badass and hilarious. Another suit is a back harness (that according to Canales is extremely uncomfortable to wear) adorned with a splendorous bunch of chrome wind chimes that swing in unison like a rippling sash. The sound this suit makes is not a soothing Andean panpipe mélange that would begin a Richard Gere movie about the Amazon, but instead a cacophonous, awful crash similar to the sound lowriders make during "jump competitions" (which unironically rip). Canales understands that the façade is the essence — that most of the robots and cyborgs of our dreams were made of tin and cardboard and made horrible sounds, and that the dream only needs to be actualized for an instant to glide on.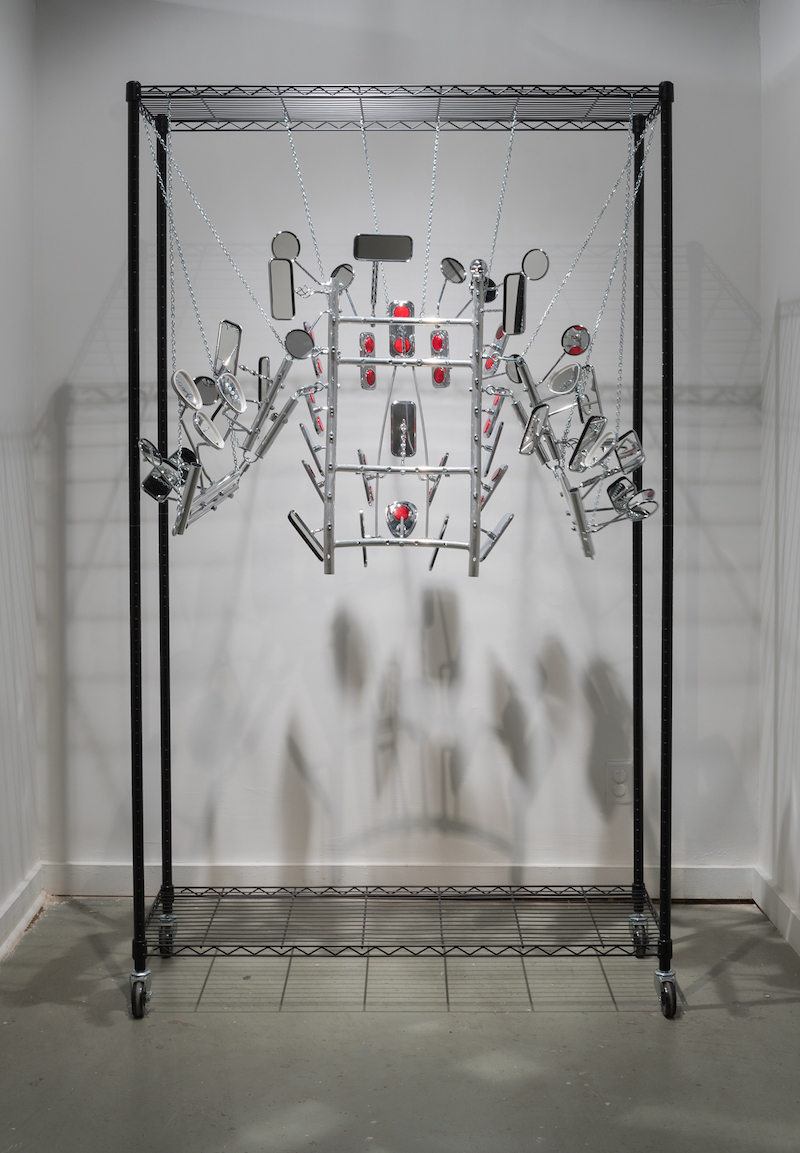 And then there's pièce de résistance, the
Chrome Mirror Suit
, a set of mirrors and various low-rider accoutrements (little chrome skulls, etc.) that allows the wearer to be fully aware and reflective to ensure their look is on point. In the accompanying video, which is one of the best pieces I've seen in Texas this year, Canales wears the suit and to the ethereal Roberta Flack song
The First Time I Ever Saw Your Face
, solemnly primps his hair and goatee, occasionally spraying one of the mirrors with the gravitas necessary to make things tight. The suit and video are both ridiculous and sublime. In this unvarnished embrace of male vanity, Canales finds a grid-like understanding to the pathology. Men spend most their lives wearing their chrome suits, looking in the mirrors. The title of the show
Para Chrome
has two meanings. It connects the parachute webs to the chrome works — the line being ripcords of escape, so latticed and intricate such escape might merely be to another world with different suits to wear. And in Spanish it translates as "For Chrome." An appreciation of reflection, of catching your best self for a flash before you make a move.
Jimmy James Canales' Para Chrome
at
Presa House Pop Up
at
Fl!ght Gallery
, San Antonio, through Oct 29th