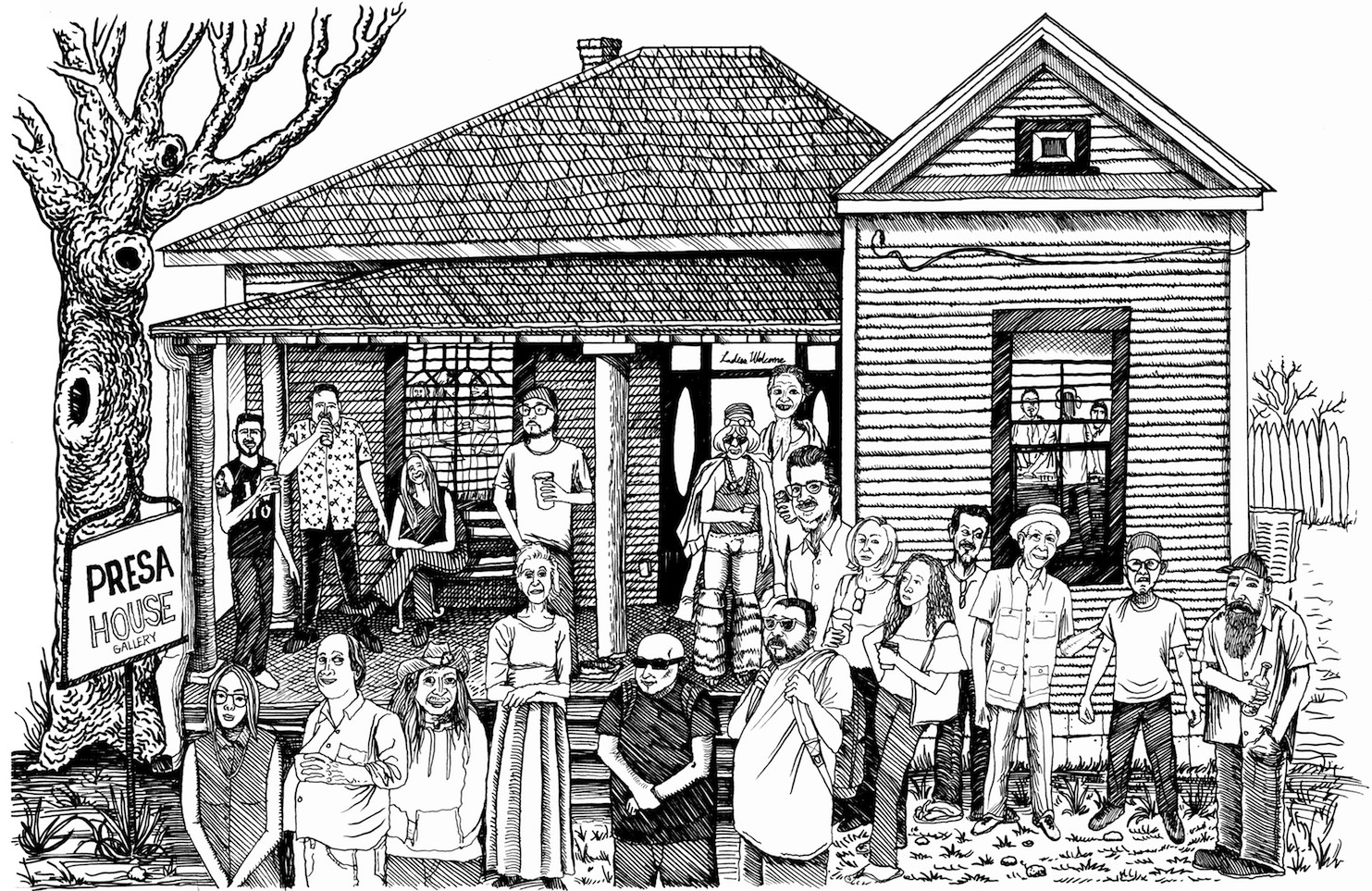 San Antonio Current / Bryan Rindfuss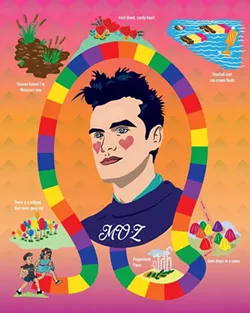 Despite its melancholy overtones and references to "bad memories" and a relationship that never was, the dreary Smiths classic "Back to the Old House" feels like a timely theme right now for Presa House Gallery, an artist-run space
about to wrap up a memorable yet complicated year. Launched in October of 2016 by local artists Rigoberto Luna and Jenelle Esparza in a charming Southtown house previously occupied by Roland "Nightrocker" Fuentes' R Gallery (where Luna served as curator), Presa House first caught our attention early on with "November Spawned a Moz Show," a group exhibition organized in anticipation of a Morrissey concert which — in typical Moz fashion — quickly sold out … only to get postponed, rescheduled and ultimately canceled. In addition to representing South Texas' undying love for The Smiths and Morrissey (even when he doesn't show up), the show proved the gallery as a promising newcomer with a professional attitude, a laid-back vibe and a firm handle on various factions of the San Antonio art scene.
In the months that followed, the gallery won over fans with a unique curatorial slant that took shape in well-received shows like "Borderwavve" (which explored "a new aesthetic of abstraction and border culture" through the eyes of Texas-based artists Gerardo Arellano, Jorge Puron, Aldo Fabian Ramos and Cande Aguilar) and "Sex, Race, Science" (a retrospective of wide-ranging works by Rolando Briseño that came complete with a community dinner inspired by the revered local artist's vibrant tablescapes).
Then, in August of this year, less than a month after unveiling provocative solo shows by accomplished locals Ed Saavedra ("The Price of Free Dumb") and Albert Alvarez ("Don't Be My Judas"), Presa House somewhat suddenly announced it would be departing its quaint digs to stage a series of pop-up exhibitions — the first being a pair of Fotoseptiembre shows (Rebecca Dietz's "Chimeric Daydreams & Aperol Suns" and Melanie Rush-Davis' "Road Trip") that were originally destined for the old house but instead landed at 112 Blue Star, a space best remembered as the former Joan Grona Gallery. Following that switcheroo, Presa House popped up at FL!GHT Gallery to present local artist Jimmy James Canales' fascinating solo endeavor "Para Chrome" and Houston-based Ángel Lartigue's enigmatic offering "La Ciencia Avanza Pero Yo No."
Although Luna explained the departure was part of a planned effort to explore other opportunities and collaborate with various contemporary art spaces around town, complications surrounding a sub-lease agreement clearly contributed to the situation. During the gallery's nomadic excursion, Luna and Esparza made efforts to virtually "cut and paste" the homey aesthetic and familiar dynamic of Presa House into the spaces that hosted them, but the  results admittedly felt "totally different." While consideration went into possibly taking up permanent residence at 112 Blue Star, Luna found it lacked the intimacy of the house on Presa. Citing both the gallery's layout and the foot traffic First Friday brings to Blue Star, Luna says he didn't even know certain people were present amid the bustling crowd that filled the space. Since
Luna knew the lease for the house on Presa was coming up for renewal, he and Esparza expressed interest in taking it over and announced via social media on November 15 that they'd successfully secured it. "We enjoyed our last three months traveling our exhibitions throughout the Blue Star Arts Complex as a part of the Presa House Pop Up Series. The time allowed us to weigh our options and give careful consideration to the future of the gallery. Today we're happy to announce our lease agreement goes into effect as we officially return to the house on Presa."
When asked about the takeaway from the experience, Luna was quick to point out how impressed he was by the amount of support he received from the art community (in both Southtown and the Lone Star district) while looking to secure spaces. "It was neat to see all these people who believed in what we're doing," Luna told the Current.
For what's sure to be a lively welcome home celebration, Presa House will open its doors anew on December 1 for a First Friday reception featuring a one-night-only performance by interdisciplinary artist and educator Mark McCoin and the UTSA New Media Collective. Then, on December 16, the gallery will host the first San Antonio exhibition of works by Benjie Escobar, a multimedia California artist who draws inspiration from "his childhood in Pomona, lowrider culture, graffiti, raves, streetwear, 1990s culture, typography, professional design and illustration… all tinged with a bit of snarky humor." Luna says he plans to pair Escobar with local artists Sabrina Alfaro (Xingona Prints) and Gilbert Martinez (Forreal Art) and round out the opening reception with vendors offering handcrafted items.