Around 20 years ago, Saturday Night Live ran one of my favorite sketches, a fake gameshow called Who's More Grizzled. The contestants (Will Ferell as a kind of Grizzly Adams, Robert Duvall as basically himself) answered questions demonstrating their bonafides. (One question was about immigration and Duvall growls: "If you've got a strong back we can use you.") At one point, Duvall's character is remembering the death of his wife during a particularly brutal winter when the host interrupts him: "I'm sorry — that's wistful, not grizzled."
Nostalgia is necessarily tinged with wistfulness and a sad sentimentality. The Portuguese word "saudade" is more complete and accurate — a bittersweet memory of the past. (This is perhaps why their music is so good.) Given that most memory the mind buoys will be nostalgic, it will also be sculpted, a dream, a vignette, a loop that spins out further into artificiality as the years go by.
John Dalton Atkins' ambitious and varied show at Presa House in San Antonio explores the contours of nostalgia in a specifically a southern, blue-collar tableau that's humorously exaggerated, and also desolate and melancholic.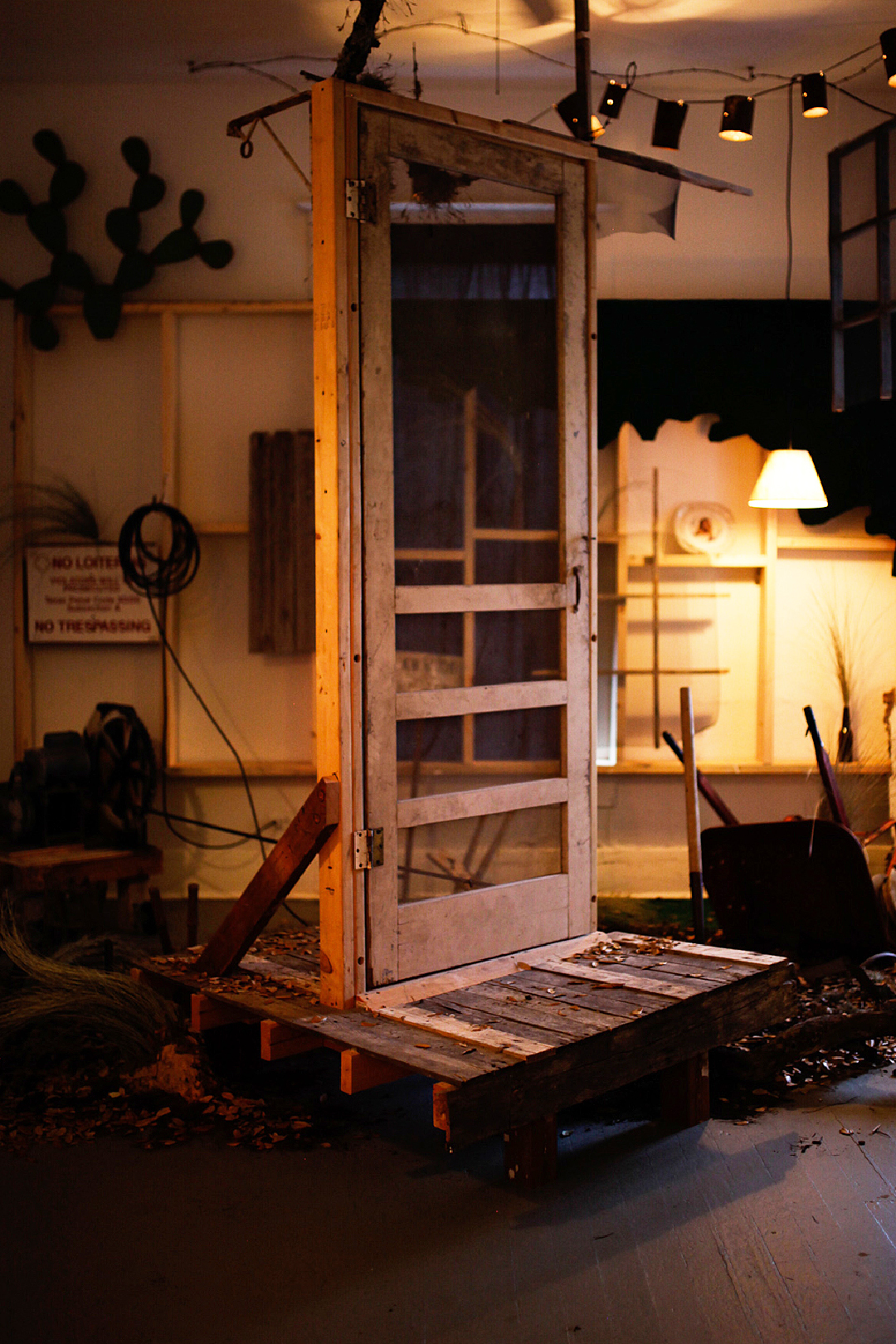 The centerpieces of the show are three kinetic installations — one of a large fan, a second a wheelbarrow of empty beer bottles rattling over a roller pin, the third a screen door on an automated spring that clatters open and shut. The kinetic pieces form a kaleidoscope of stories: working at a factory, getting smashed, angrily banging a screen door to let someone in or throw them out. These pieces remind one of an exceptionally bleak mini-golf course based on the writings of Breece D'J Pancake.
Down Home (the title of the show) incorporates an array of forms — sculpture, paintings, found objects. A giant (though probably accurately sized) grotesque catfish is mounted on the wall in front of a cut-up of swamp signs. The catfish's gaping maw sparks an association with the southern tradition of noodling — where one "fishes" for catfish by sticking their arm in a watery hole until the catfish chomps on your forearm and you haul it out. The strength of the show lies in the associations, references, and stories coiled in the works, like sleeping snakes. Each of the works is its own screen door, shutting and opening.
Another piece is a ramshackle work table covered with lacquered ceramic items. A cordless landline and table lamp are perfect touches, creating a shrine to the tinkerers, the ham radio operators, the cluttered desks that are their own worlds and histories. Atkins finds in his blue-collar reverie of hobbies a mirror for the artist. After all, many artists' studios don't look so different from a tinkerer's garage.
Several cowhide pieces, stretched on walls, are emblazoned with vibrating paintings of fading and peeling barns. Atkins uses the show to flex his formidable and wide-ranging skills as a painter, sculptor, and conceptual artist. For the works taken together, and the Spanish moss-like canopy it forms, Atkins avoids melodrama or any sort of heightened gothic hysteria. The show is funny, purposefully artificial, folksy, and tinged with sadness. The weather in this region wears things away. The coast of Louisiana (where Atkins hails from) is eroding and disappearing; the heat warps the wood, the houses. The insects are loud. The aphorism "Down Home" is an appropriate title, as home often feels down — down on one's luck, down below, as if in a dream, a well, a cave, where the call grows faint, but always familiar.
Through May 26, 2018 at Presa House, San Antonio