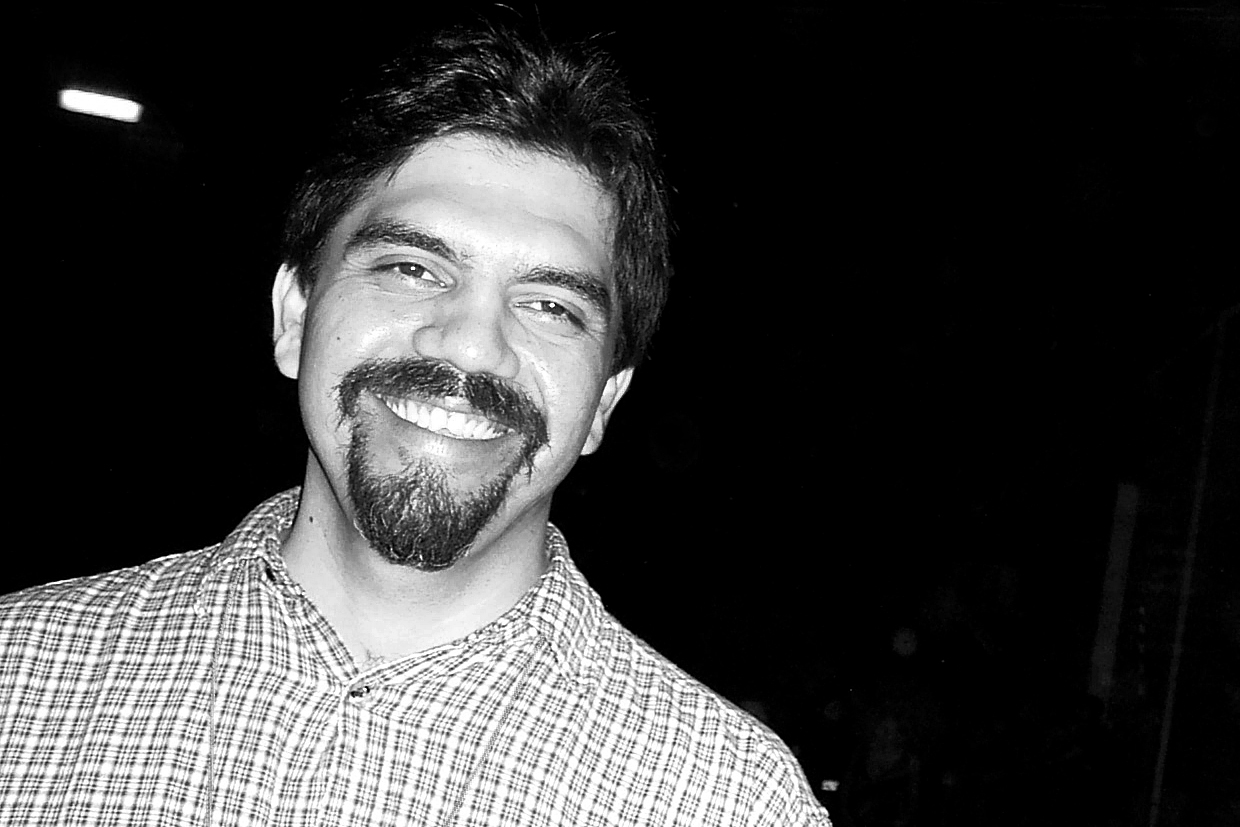 San Antonio Current / Bryan Rindfuss
Founded in 1993 by the community-minded trio of Manuel Diosdado Castillo, Tony "Cruz" Ortiz and Juan Miguel Ramos, the West Side nonprofit San Anto Cultural Arts (originally dubbed Inner City Cultural Arts) has impacted the lives of hundreds of young artists through its two signature endeavors: a continuously active Community Mural Program that's responsible for more than 50 works of public art, and El Placazo, a community newspaper offering mentorships to inner-city youth in the areas of writing, photography and journalism.
A steadfast source of encouragement and inspiration who served as the organization's executive director and played drums for Snowbyrd and other local bands, Castillo died of cancer on January 6, 2009. To honor his lasting legacy on the 10th anniversary of his passing, San Anto Cultural Arts and Castillo's former students Rigoberto Luna (Presa House Gallery) and Danny Delgado (Hi-Tones, Con Safos, etc.) have, with the blessings of the Castillo Family, teamed up for a trio of commemorative events across three venues.
Kicking things off on Friday, Presa House's Remember Me is anchored by a group exhibition featuring artists who were directly inspired by or personally connected to Castillo (Ruth Buentello, Jane Madrigal, Israel Rico, Joe De La Cruz, Mary Agnes Rodriguez and Jose Cosme, to name a few) but also invites members of the community to contribute to "How Did Manny Include Me?" — a letter-writing project inspired by Castillo's inclusive nature as well as his ability to connect individuals who shared or valued San Anto's "culture, history and causes" (free, 6-11pm Fri Jan. 4, Presa House Gallery, 725 S. Presa St., presahouse.com).
The following night marks the anticipated reunion of retro Latin soul quintet Sexto Sol (Eddie Hernandez, Samuel Villela, Greg Goodman, Juan Ramos and James Moody) at a Manny Castillo Tribute Concert complete with "Manny-inspired tunes and a selection of Manny's personal vinyl collection" spun by DJ Kelmis (free, 7:30pm Sat Jan. 5, Con Safos Cocina y Cantina, 607 Hemisfair Blvd., consafos-sa.com).
And on Sunday, San Anto Cultural Arts wraps up the weekend with ¡Manny Presente! — a gathering that invites the community to partake in poetry readings by Santiago Garcia and music by Joaquin Eliseo Linn along with DJs Kelmis and Despeinada while sharing "Manny Stories" under the collective hashtag #mannypresente (free, 1-3pm Sun Jan. 6, San Anto Cultural Arts, 2120 El Paso St., sananto.org).