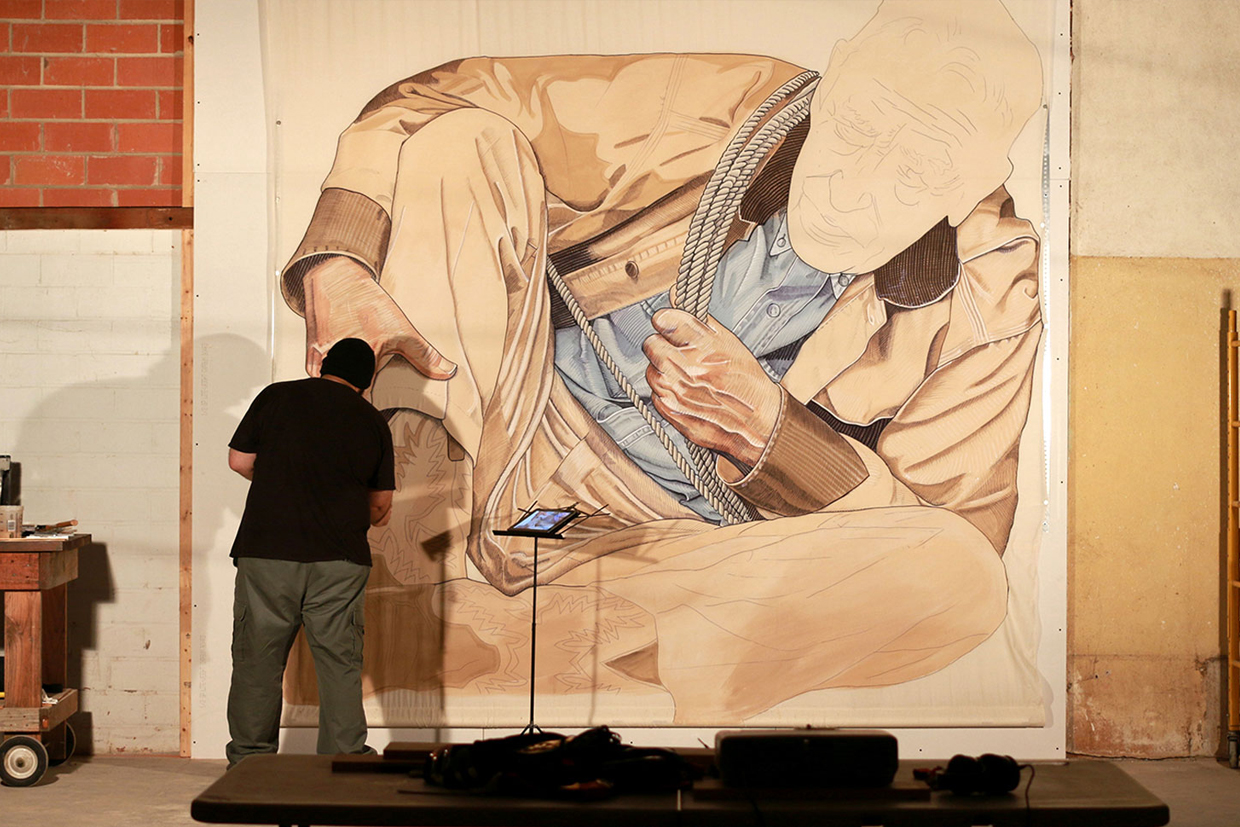 Rivard Report / James Courtney
For art destinations, from large museums to small galleries, the coronavirus shutdown has meant the loss of the only thing more valuable to these institutions than the art on their walls: their visitors.
Local galleries and museums have attempted to address how to continue showing art and telling its stories – to engage an audience at a distance when physical space and tangible artworks typically are the main draw – in a variety of ways. For Presa House Gallery, a big piece of the puzzle came from technology typically associated with real estate.
Gallery owner Rigoberto Luna said that in early March, even before the gallery hosted a well-attended but "strange feeling" First Friday opening and before the March 24 "Stay Home, Work Safe" order was issued, he knew significant adaptation of the gallery's programming and audience engagement was in order.
With Presa House booked through the end of the year with monthly exhibitions, Luna felt, beyond the need to innovate to support the gallery's existence, a sense of duty to the artists he'd agreed to showcase.
"I never considered not having the shows," he said.
"I mean, it was a culmination of three years of work for them, and then to leave it open-ended like that would have been awful," Luna said, specifically referencing the gallery's April and May shows, which were master's degree thesis exhibitions by University of Texas at San Antonio graduate students Gabi Magaly and Omar González.
"It was just a matter of figuring out how."
Innovating on the fly
In lieu of public events, Presa House Gallery has engaged its audience by offering online artist talks and studio tours and Instagram live sessions with artists. But one of the most eye-catching and useful solutions the gallery has employed has been its virtual 360 gallery tours, created by artist Naín León.
With this technology, borrowed from León's work in real estate photography, people can take an interactive, 3D tour through the gallery space to view an exhibition staged there.
Luna said León had been pitching the idea to him since the artist exhibited at the gallery in September.
"I thought it was really cool but didn't see what the purpose would be, because I want to get people through the doors, through the house," he said.
However, faced with closing the gallery indefinitely, and still wanting to put up shows as scheduled, Luna turned immediately to León, which "seemed like a no-brainer."
León created virtual 360 tours for the grad students' exhibitions – Magaly's Yo No Nací Para Aguantar A Nadie in April and González's Homebound in May.
"I am pretty attached to this project called Presa House Gallery because of what it means to the art community in general, and even more because it is an open window to emergent artists," León said.
After mastering the virtual 360 tour process for his real estate work, León "realized that we must use this technology to preserve exhibitions," as it allows artists and galleries to maintain their work in virtual space forever.
Magaly expressed deep gratitude and appreciation for the work Presa House put into her exhibition.
"Presa House went above and beyond," she said. "They worked non-stop to give us up-and-coming artists a voice and help us get recognized out in the scene."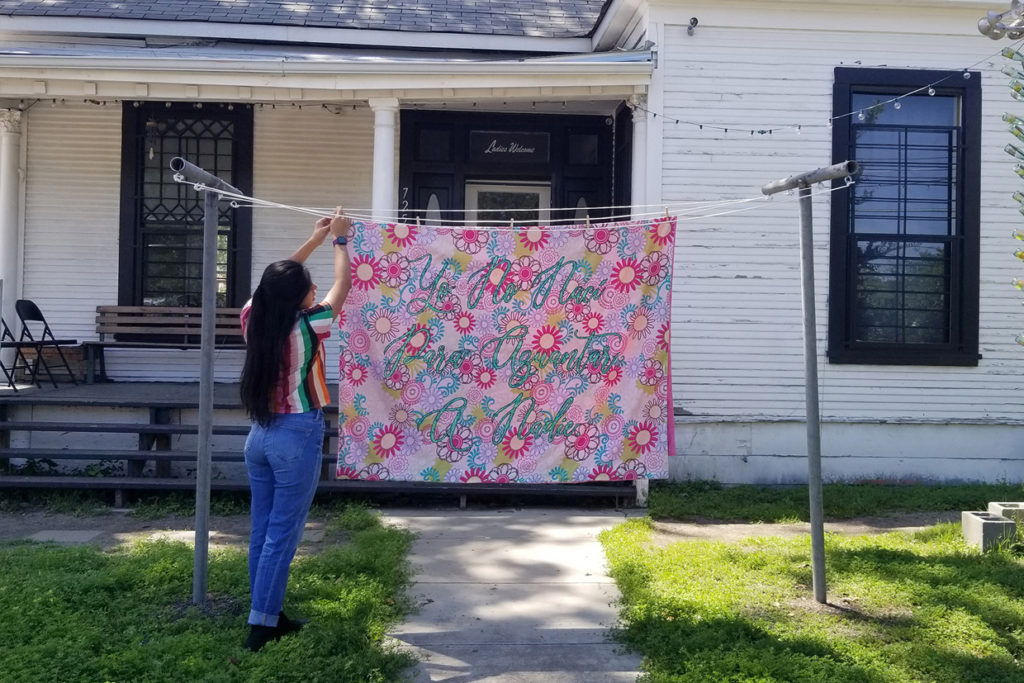 She described the gallery's handling of the shutdown as "amazing" and said "showing online reached so many more people than I expected."
"I was sad no one got to physically see it, but to have so many more people outside of San Antonio see it was amazing. This experience started off with all of the negatives because of COVID-19 but quickly turned into a positive because my messages were seen by more people and I was able to have a conversation with the public about my work."
For González, the challenges began when the lockdown went into effect in mid-March and he had to move back to Kingsville, his hometown, to finish the work for his exhibition.
After installing his work at the end of April, González felt a sadness he never expected to feel, calling it "bittersweet."
"I was proud to have an exhibition, despite the challenges, as my peers were having to postpone their own shows," he said. But it was somewhat disheartening "standing in the space on opening night where large groups of people would have been and imagining what could have been."
But, González said, "the fear of not being seen was quickly dispelled" by the gallery's efforts.
"I feel nothing but love for Presa House Gallery for representing me during these uncertain times," he said. "They made the best out of a bad situation."
In another first, Presa House Gallery hosted docents from the San Antonio Museum of Art and the McNay Art Museum for a virtual gallery tour and artist talk with González on May 22.
Luna and González said the virtual tour, hosted on Zoom, represented engagement with a new audience and was more in-depth than an in-person tour could have been, owing to the ability to seamlessly switch between live conversation, the virtual 360 tour, and artist demo videos.
"The great thing about all that we have been forced to learn is that we are able to reach people way beyond San Antonio with our expanded toolbox," Luna said.
What's next?
With the gallery's scheduled June exhibition canceled because the artist had difficulties accessing their workspace, Luna and company have put together a huge group show billed as a curbside art sale.
Luna said the idea is to generate income for the gallery and the showcased artists, all of whom have either shown at Presa House or are slated to do so in the future.
People can visit Presa House's website to browse works for sale and then visit the gallery to pick up their purchases. The gallery also is selling artist-created Presa House T-shirts to help generate cash.
As of the moment, the gallery will remain closed through at least June. Luna has no intention of rushing things and plans to continue to utilize the gallery's "expanded toolbox" even when things return to some semblance of normalcy.
"The idea of supporting a place means something totally different to me now. … You don't have to visit and physically be in a space, you can just follow through the content they are putting out online," he said.
"Ultimately, for me, it's just a matter of making sure that people see these artists and hear their stories and that what they are trying to say gets across to a variety of audiences."
"However we do that, at this point," he said, "it's all the same to me."