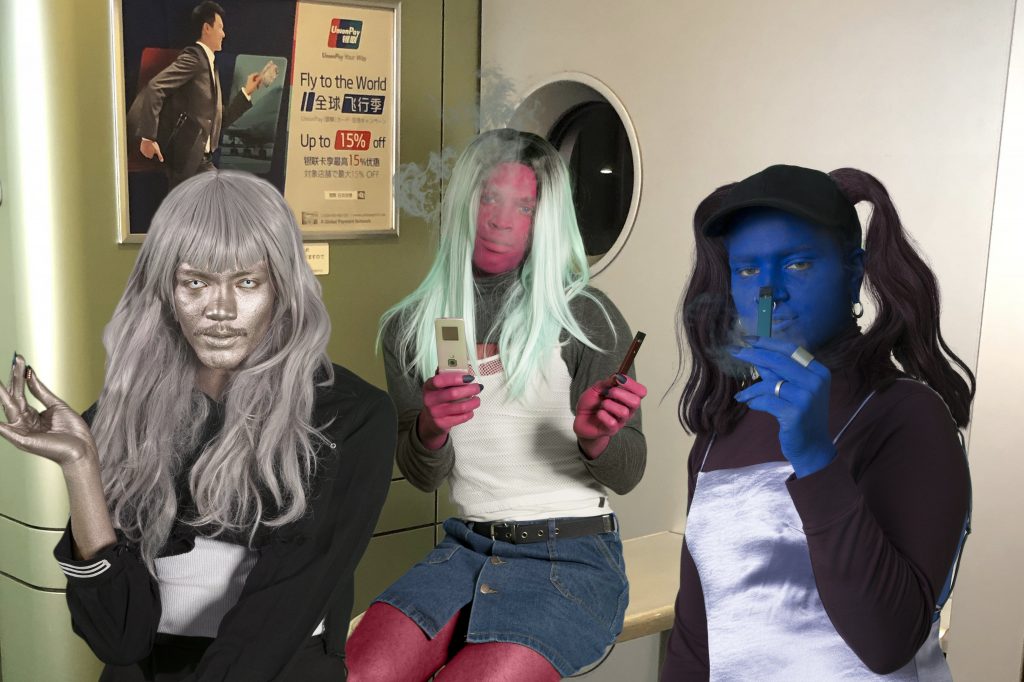 REMEZCLA | BY BARBARA CALDERÓN
Despite a lineage of Tejanos' fruitful contributions to art history and a new wave of exciting talent, Texas artists don't get much limelight in the national art world. But this critique of exclusion is not new.
"If Americana was 'sensed' through blue eyes, now 'Brown Vision' is demanding equal views—polychrome instead of monochrome," Tejano artist Mel Casas wrote in a 1971 manifesto. And, though generations of Tejano artists have organized tirelessly for recognition within the American canon, the challenge to attain visibility continues for a new crop of Texan artists with experimental approaches.
If Americana was 'sensed' through blue eyes, now 'Brown Vision' is demanding equal views—polychrome instead of monochrome
A few Tejano art starlets from earlier generations do appear from time to time in the Latino section of American art history textbooks. Luis Jimenez' vaquero equestrian sculptures and Carmen Lomas Garza's meticulous paintings of domestic scenes like tamaladas and quinceañeras are sometimes included in these survey books. These and other Chicano movement-era Tejano artists have also been collected by important national institutions like the Smithsonian American Museum of Art. The Smithsonian's 2014 exhibition Our America: The Latino Presence in American Art spotlit several Tejano artists like Margarita Cabrera, Melesio Casas, Delilah Montoya, Jesús Moroles, Chuck Ramirez, Alberto Valdés, Jesse Amado and Paul Henry Ramirez.
Much of this national recognition has been due to organizing efforts associated to
The Chicano movement and the formation of collectives like Con Safo and Los Quemados. These autonomous groups formed in order to organize exhibitions for Chicano artists because, much like today, mainstream art institutions ignored the Latino perspective. Many of these artists and their adjacent cultural organizers went on to fund galleries and cultural centers to support their art. Today, many spaces that exclusively show Latino art in Texas like Mexic-Arte in Austin and the Guadalupe Cultural Arts Center in San Antonio grew from this sentiment and took inspiration from these Chicano art antecedents.
In Texas, the state's biggest cultivators of art are in the cities of Houston, Dallas/Fort Worth, Austin, San Antonio and El Paso, where galleries and artist-run spaces set up shop. But because of a continued marginalization of Latinos in large art institutions, cultural centers in Austin, Dallas, and San Antonio (Houston doesn't technically have one) have historically done much of the work to support Latino artists. Without minimizing the years of dedication to Latino arts within these spaces, it is important to note these venues do both the work of arts and cultural elevation, which are two separate things. Although it is necessary to protect traditions and culture, this has resulted in a proliferation of conservative and celebratory artwork within these spaces. There is a tendency to hyper focus on traditional events like Dia de Muertos with year long shows of papel picado, calaveras and cempasuchil. This environment tends to promote repetitive identity tropes while shutting out critical or experimental artists. The recent censorship controversy in San Antonio of a video piece by Xandra Ibarra in the show Xicanx: New Visions is indicative of the lack of support for artwork with a critical bent.
However, experimental spaces do exist and have provided exhibition opportunities for Latinx artists in Texas who push up against traditional aesthetics. Spaces like Project Row Houses, Presa House, Lawndale Art Center are just a few of the many around the state. Improvements in city funding for the arts and organizations like Houston Arts Alliance dedicated to funding the arts have also provided regional support for many artists of color. Let's not forget that support for artists is not just exhibition space but also cold hard cash. Still, many Texas-born artists cite less opportunities and a conservatism in the arts as a reason for their move to New York or Los Angeles to pursue art careers. But Houston-based artist Vincent Valdez shows you it is possible to live and work in Texas and make waves in the art world while exhibiting controversial paintings.
To help highlight the breadth of Texas-based talent that goes beyond typical or tame distinctions, we put together a list of 40 young, emerging artists who live and work in the Lone Star state. These creators are painters, printmakers, sculptors, fiber, textile and performance artists—and the materials vary just as much as the mediums. They work with decomposing human body cells, cowboy hats, machetes, Takis chips, rope, as well as traditional paints and plaster. The subjects also vary and encompass themes of intimacy, labor, biculturalism, technology and more.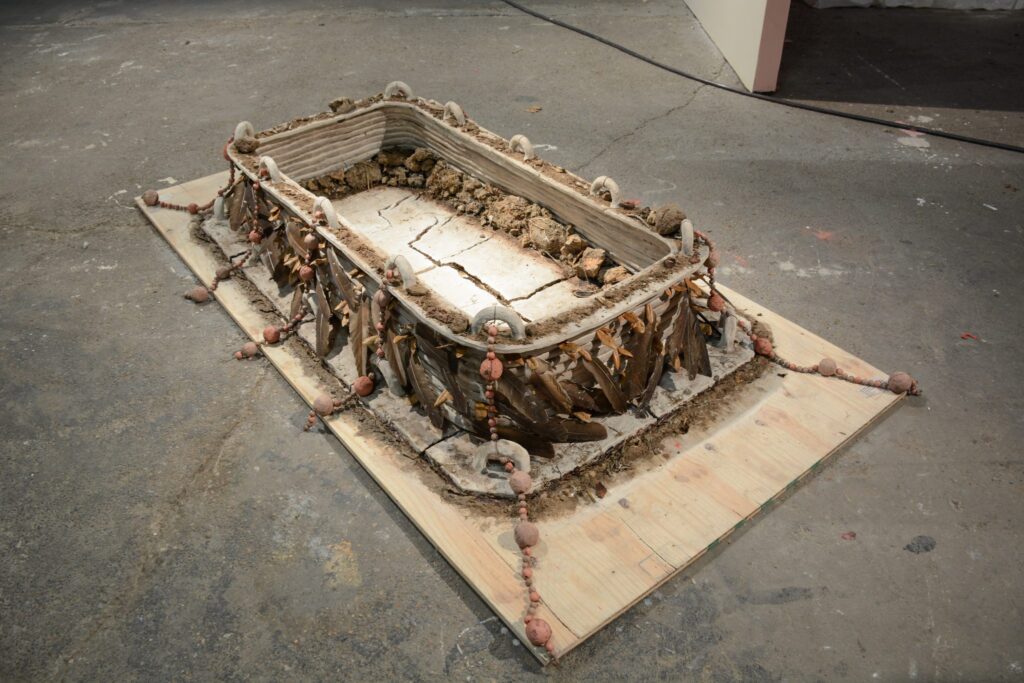 The artists include Houston-based Farrah Fang who creates futuristic techno pagan worlds in large-scale collages. Fang also performs in staged rituals at nightclubs with collaborator Angel Lartigue whose multiform work examines the cross sections of death, ceremonial rites and the queer body—sometimes using organic material from forensic burial sites. Marfa-based artist Xavier McFarlin, on the other hand, uses video and manipulated photography to tease out constructions of masculinity using dramatized skin pigmentations and character play. Meanwhile, Christian Cruz in Dallas performs durational works that function as a critique of gendered labor. Her work "They Tried to Bury Us" is two hours of Cruz painting her nails while buried under a pile of stinky mulch. Over time, the fumes from the varnish and soil make her woozy.
The role of experimental art and critical perspectives is essential to imagine new futures, question society, and determine what's important in our historical moment. The 2020 Texas Biennial, an independent survey of contemporary art in Texas, was set to be one of those assessments. Many Tejanxs were excited for this particular biennial as Evan Garza, a queer, Latinx, was set to co-curate it with Ryan N. Dennis, the Director at Project Row Houses in Houston. However, with the show postponed until 2021 due to COVID-19, we won't get to see their selections anytime soon.
The role of experimental art and critical perspectives is essential to imagine new futures, question society, and determine what's important in our historical moment.
To amass this survey of artists who live and work on the cusp of the Texas contemporary art scene we sifted through exhibition archives, MFA programs, Instagram, online write-ups and various networks in order to get a wide sense of the work being contemplated around the state. This list is by no means exhaustive as Texas comprises the fourth, seventh and ninth most populous cities in the U.S. Yet, we hope this collection can be a resource for community-building, art education, and food for thought on the diversity of expression and how one's physical location does and does not affect it.
Credits:
Written by Barbara Calderón
Edited by Ecleen Luzmila Caraballo
Produced by Itzel Alejandra Martinez