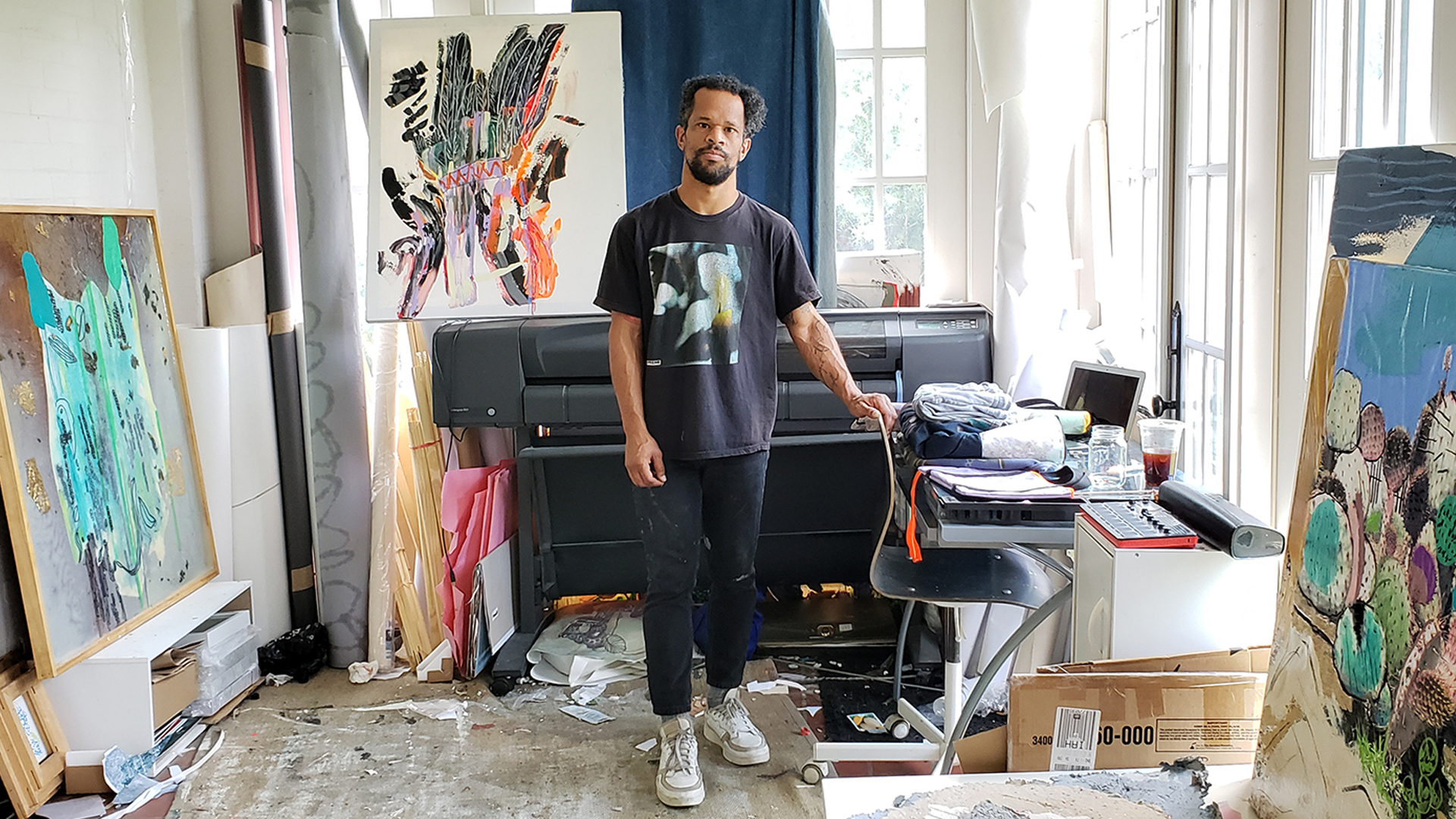 Christopher Blay and Christina Rees on a Salvadoran artist's debut in Dallas, an art scavenger hunt in Austin, and a Houston artist in San Antonio whose images and words may be just what we need right now.
"It's a little serenity for our times."
To watch last week's Top Five in which Brandon Zech and William Sarradet talk about some tricky architectural paintings, a Dallas cohort in the Panhandle, and fantastic use of an unexpected space in Houston
1. ELDORADO NIGHTS
February 6 – 27 | Eldorado Ballroom (Houston)
From the announcement:
"Project Row Houses and Aurora Picture Show co-present ELDORADO NIGHTS, a weekly series of outdoor projections at Houston's historic Eldorado Ballroom. Each Saturday throughout the month of February, join us on the west side of the building for projections by artists Jamal Cyrus, Brian Ellison, Bria Lauren, and Phillip Pyle, II, whose contributions resond to the history and legacy of the Eldorado and Third Ward. The project is curated by Phillip Pyle, II."
2. Shahidul Alam: Truth to Power
February 13 – July 11 | Asia Society Texas Center:
From Asia Society Texas Center:
"Shahidul Alam: Truth to Power presents the first comprehensive U.S. museum survey of Shahidul Alam, the renowned Bangladeshi photographer, writer, activist, and institution builder and a Time magazine Person of the Year in 2018. Over 50 images and ephemera will show the breadth of his practice and impact throughout his four-decade career. The exhibition includes portraits, landscapes, and scenes of daily life, strife, and resistance in the 'majority world' — a phrase Alam has used since the 1990s to reframe the notion of the 'third world' or 'global south.' The term also confronts the ways in which Western media continues to define how the majority of the world's population — especially Bangladesh — is portrayed in relation to poverty and disaster."
3. To
February 6 – 27 | Northern-Southern (Austin)
From Northern-Southern:
"TO is a group show of paths and directions considered as art experience installed outdoors, in semi-wild public spaces across Austin, Texas, and beyond, for the month of February 2021. The work in TO can most broadly speaking be called wild art. The media encompasses audio tours, trails, portals, sculpture, digital media, instructions, new land-marks, way-finding marks, sibyls, remote running sessions, and care stations. The work asks you to walk with it, around it, between it, by it, to it. Subscribe, for free, on the Northern-Southern website to receive a map and information about the artists and the work on the opening day."
4. Jonathan Paul Jackson: A Reminder to Breathe
February 25 – 27 | Presa House (San Antonio)
From Presa House:
"In his approach, Jackson uses his latest works to provide a sanctuary of tranquility and reflection for the Texas citizens during these uncertain times. The collection of paintings and photographs of landscapes and flowers taken in his home garden and his travels across Texas reflect a moment by merging digitally printed photos with hand embellishments, creating an abstract-expressionist interpretation of the landscape.
"We may not be able to travel much these days, but I'd like to take you on not only a visual journey but on a trip in your imagination. Reflect on the flowers and landscapes, travel to your moments in nature, and remember the scents that the flowers and trees gave off and breathe in the Texas air."
5. Abigail Reyes: Aquí se come carne
February 13 – March 13 | Liliana Bloch Gallery (Dallas)
From the gallery:
"The Liliana Bloch Gallery is pleased to present a new solo exhibition by Abigail Reyes entitled Aquí se come carne. This is Reyes's first solo exhibition in the United States.
"Aquí se come carne addresses Abigail Reyes's investigation about the permissive and systemic machismo culture in Latin American society. Reyes exhibition draws a chilling parallel with American resurgence of populism and authoritarian ideologies deeply rooted in male gender dominance exposed with the #metoo movement."