Past Exhibition: January 1, 2021 — January 29, 2021
andie flores: but always near poets
andie flores (b. 1990) is a visual and performance artist, writer, and comedian and currently a second-year doctoral student in the Mexican American Latinx Studies program at the University of Texas in Austin. Her work and play are steered by questions of audience, excess, glitches, legacy/archive, experiments of liveness, and performances of an online identity. flores explores the ways surveillance (self-surveillance, ubiquitous surveillance from the state, and conditioned familial management of emotions and the body) disrupts social interactions and makes the anonymity of pedestrian life difficult. She uses humor to hint at new narratives of an excessive brown femme subject in sites where surveillance occurs. Her portraits (in any form) are often built around themes of isolation and loneliness that focus as much on the final image as the interactions in the space of the photograph's on-site creation.
"I'm excited about digging into the complexities of knowing oneself as a racialized body and general clown idiot in multiple layers of time, space, and cultural connectivity through self-portraiture, character video experiments, live (in-person and online) performances, and the reanimation of archival family footage."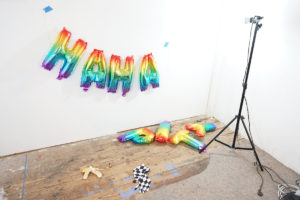 In but always near poets, flores creates an immersive new media installation that situates her present-day with various stages of her experiences growing up. Through a Sony Hi-8 camera lens, flores records new videos designed to create a dialogue with home videos shot more than two decades ago. flores' parents purchased a Hi-8 camcorder released by Sony in 1989, one year before flores's birth. Equipped with a powerful tool for documenting their brand-new family's formation, they began filming everything, assuming the role of family historians. More recently over the past several years, flores spent extended periods examining and reinterpreting the archive and making sense of key moments that impacted and shaped her existence. Flores identifies patterns that she believes are crucial to being in sync with one's adult selfhood by re-witnessing familiar relationships or becoming attuned to private conversations and nuances.
Theorists like José Esteban Muñoz situate the space between and inside queerness and brownness as a sort of poetic structure of being, and I see the exploration and creation of "home movies" of myself as a brown queer woman as more valuable data collection than self-masturbatory narcissistic nostalgia — What can I learn or relearn about myself that's already / always been there? What can I gain from accessing my earliest stages of identity formation?
---