Past Exhibition: July 3, 2020 — July 25, 2020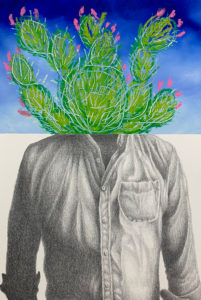 Alejandro Macias: Hidden in Plain Sight
Texas native and University of Arizona Assistant Professor of Painting and Drawing Alejandro Macias' (b. 1987) solo exhibition, Hidden in Plain Sight presents new, and recent works that reflect on his Mexican-American experience and a broader range of borderland and Latinx issues. The collection of 25 pieces include works on canvas, paper and wood panel and showcase a variety of techniques and mediums such as oil, acrylic, graphite, and pastel.
Macias was born and raised in Brownsville, Texas, the southernmost border town in the U.S. which is naturally divided from Matamoros, Mexico by the Rio Grande. In 2008 Macias received his Bachelor of Arts from the University of Texas at Brownsville, and a Master of Fine Arts in 2-D Studio Art from the University of Texas – Pan American in 2012. Macias served as a lecturer in 2-D at UT-Brownsville/ UTRGV from 2013 to 2019 before relocating to Tucson, Arizona in 2019.
Hidden in Plain Sight investigates Macias' personal socio-political trepidations, and the deeper struggle of migrants across the border. Macias explores broader themes of underrepresentation, misrepresentation, and misconceptions of marginalized people along the borderlands across the United States. As Macias says,
Growing up in a border region, I often think about the complex ambiguity, duality and the conflicts with cultural integration. My conceptual ideas point out the struggles and dangers of the assimilation process, which can be seen as an erasure of history, heritage, and culture. As a fairly new Arizona resident, I see parallels among the Latinx population here, who perhaps struggle with similar barriers both physical and emotional. Regardless of location, I hope to contextualize the unique qualities and struggles of the people around me. My work also draws inspiration from many Chicanx artists like Cesar Martinez, Vincent Valdez, and my mentor Carlos G. Gomez who've each addressed and propelled issues of identity, repression, civil rights, immigration, and cultural misconceptions to a broader audience.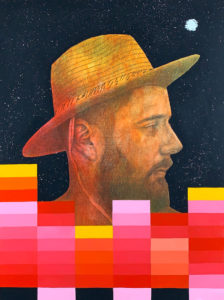 Macias has exhibited nationally and internationally including forthcoming exhibitions at the Visual Arts Center at the University of Texas at Austin, Rockport Center for the Arts, and the Tucson Museum of Art. Since 2016 Macias has been the recipient of numerous awards and recognitions including notable residencies at The Vermont Studio Center, Chateau d'Orquevaux in Orquevaux, France, The Studios at MASS MoCA, and most recently Wassaic Project in Wassaic, NY (2021).
Any Proceeds from the sell of works directly tied to the migrant struggle will go to humanitarian organizations, such as No More Deaths (No Más Muertes) an advocacy group based in Tucson and Phoenix, Arizona, that seeks to end the series of fatalities of undocumented immigrants crossing the desert regions near the United States-Mexico border.
Learn more about Alex at www.alexmaciasart.com