Past Exhibition: May 4, 2018 — May 26, 2018

MFA THESIS EXHIBITION
John Dalton Atkins: Down Home
John Dalton Atkins: Down Home is an expansive installation of all new artworks inspired by the unconventional yet practical culture of blue collar folks and the eccentric places they inhabit. Utilizing found objects, discarded materials, wood, steel, and paint, "Down Home" runs the gamut from large scale kinetic artworks to more intimate found object sculptures and paintings. Although inspired by a global community of workers, makers, fixers, and backyard philosophers, Atkins' work is a reflection of his life and experiences in the south, namely his home and family in New Orleans, Louisiana and his new life in San Antonio, Texas.
Coming from a working class family, stories of past generations and their lives as sportsman, industrial workers, and country dwellers are all constant points of reference for Atkins. Humor, ingenuity, invention, industry, relationships, and rural landscapes are also themes often integrated into his work. Other interests like honky tonk country music and classic western culture are frequent inspirations as well.
Replete with nostalgia and melancholy, Atkins' installation methods are meant to remind visitors of the quiet, timeless places that exist all around us. Half buried tools and lawn equipment, an overly cluttered workbench outfitted for every task and no task at the same time, clusters of junk commingled with dust and hair and dirt, domestic light fixtures from a simpler time, and a rattling wheelbarrow of beer bottles are a few of the vignettes of Down Home. These installations, all seemingly paused in time and existing in their own miniature universes, should bring viewers to a place where they can remember back on moments in their own lives and examine its passing and molding of time.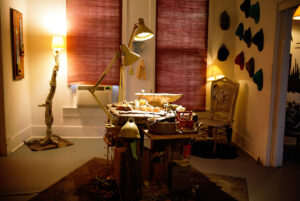 In the physical creation of Atkins' work, he is interested in reinvigorating the value of discarded commonplace objects by transforming and combining them into something new and playful. Celebrating everyday items while simultaneously displaying the haphazard functions of the human mind in the way they're combined is critical. Found objects (most usually donated by gracious friends) come imbued with their own histories and uses, and it's these everyday things, used and held and worn, that carry the most information about time, a very important aspect of the work.
This University of Texas San Antonio 2018 MFA thesis exhibition is supported in part by Freetail Brewing Co., and Whataburger.