Past Exhibition: October 7, 2016 — October 28, 2016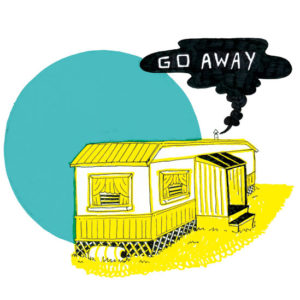 Beer Fang, aka Bryan Duff, brings his latest series of humorous and distinctive illustrations just in time for Halloween. Duff explains, "Life After Halloween is not about what time of year it is, and it's about creating something every day." Michael Menchaca returns to San Antonio armed with a new body of work completed while earning his MFA from the Rhode Island School of Design. In Cubiculum, Menchaca will be presenting a selection of his signature serigraphs and a multi-dimensional installation and digital projection. Since 2000 Elizabeth and Maurice Treviño have created numerous large-scale paintings, mixed media works, drawings, and silkscreen poster art. Fade Away is the couple's first exhibition in San Antonio since their 2004 exhibit at Bismarck Gallery at the Blue Star Art Complex.
Beer Fang: 
Life After Halloween
Originally from Memphis, Bryan Alan Duff is a San Antonio-based artist and musician who creates digital and hand-drawn illustrations primarily using a marker on vellum. His easily recognizable work, known for its often satirical style, has been used on countless posters, flyers, album covers, zines, and more throughout the San Antonio art and music scene.
Michael Menchaca: 

Cubiculum
San Antonio-based artist Michael Menchaca's background, is heavily informed by his illustrations and videos. As the child of two Mexican immigrants, his work reflects a desire to bridge his Latin roots and contemporary American culture. His chosen medium, printmaking, lends to the history of art and language in Mexican-American culture. His work continues to explore the iconography and symbology of Pre-Columbian civilizations. Menchaca attended the Rhode Island School of Design, where he earned his MFA in 2015 with a concentration in Printmaking. His work has been featured at several museums and institutions, including The Contemporary Austin-Laguna Gloria, Austin, TX; The Crystal Bridges Museum of Art, Bentonville, AR; Gilcrease Museum; Tulsa, OK; RISD Museum, Providence, RI; and the International Print Center New York, New York, NY. He has attended artist residencies at the Skowhegan School of Painting and Sculpture, Vermont Studio Center, the Wassaic Project. He was a' 15-'16 Fellow at the Fine Arts Work Center in Provincetown, MA.
Liz & Maurice Treviño: 

Fade Away
Maurice and Elizabeth Treviño are both native San Antonians and graduates of the Fine Arts Program at UTSA. They have been making art collaboratively and have continued to work individually since 2000.
Some endeavors are carefully thought out, consistent, and cleanly executed. Other collaborations are less planned, with the work being completed independent of the other, with little consultation about the direction of the piece.