Past Exhibition: September 4, 2021 — October 10, 2020
Charlie Kitchen: On the Mountain at Dawn
Wander the mountain as it absorbs your being: the wind, the water, fluid in their state of matter. Birds sing in unison, old-growth churns, clouds overhead, a rhythm, traveling through space and time. The sun rises. Absolute consciousness. Cosmic vibrations are sharpening. A novel perspective reveals.
San Antonio native Charlie Kitchen's (b. 1991) solo exhibition, On the Mountain at Dawn, is a series of large format and 35 mm photographs produced on the road between Texas to, with no singular destination, the Pacific Northwest. Created through large-format means, this body of work seeks to discover the nature of the photograph and translate the medium into new contemporary forms of visual language.
My work is practice. I grew up skateboarding, which shaped my way of seeing the world and the activities that I do to consume my time. I've made plenty of videos with friends from all over Texas, but skateboarding has taken a back seat to other ways of expressing myself creatively as I've aged. My interest in photography came from my love of skateboarding. I think the thing that has always been a constant is the need to progress. My work is at its core about progression and pushing the photographic process to produce something new, and using the latest production as a stepping stone to the next thread of ideas.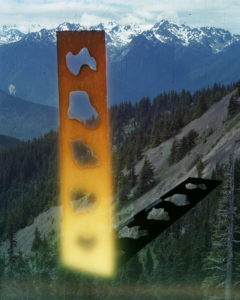 Through an experimental masking process, Kitchen exposes his film with hand-cut vinyl masks adhered to acetate and overlays multiple registered exposures. Kitchen controls the image outside the bounds of traditional photographic methods. While offering alternative forms of two-dimensional perception, his process also provides him with an outlet to test the qualities of flatness and space within a photograph and integrate aspects of printmaking into the photographic practice. Large format photography makes this possible by providing a space between the lens and the film in which the user can operate. By exploring the large format process laterally, a new dimension of photographic perception can be revealed.
Kitchen received his BFA from Texas State University in San Marcos in 2014 and has worked at Artpace San Antonio as Building Manager since January 2016. He has held solo exhibitions in San Antonio, Houston, and internationally in Amsterdam, The Netherlands, and participated in group shows throughout the United States.
Learn more about Charlie Kitchen at charliekitchenphotography.com.