Past Exhibition: April 1, 2022 – April 30, 2022
Crossing Borders: Tres de Oeste is the first of a two-part exhibition and artist exchange created in partnership with New Mexico-based artists Vicente Telles, Brandon Maldonado, and San Diego-based artist Ricardo Islas. Each presentation promotes communication and creates a dialogue between creative cultures to explore similarities and differences shaped by parallel histories and examine how visual expression is connected to the unique physical landscapes. In August 2022, Presa House will travel to Albuquerque for a four venue exhibition at Exhibit/208, Tortuga Gallery, South Broadway Cultural Center, and El Chante: Casa de Cultura.
Ricardo Islas (San Diego, CA)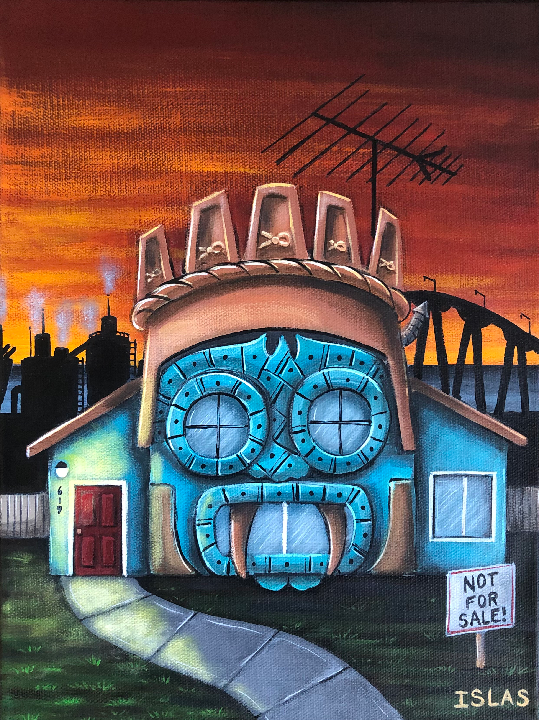 Ricardo Islas was born in 1970 and raised in Calexico, California, which is 120 miles East of San Diego, on the border of Mexico. He moved to San Diego in 1991, where he has been painting for the last 22 years. His work, rich with historical and contemporary references, combines folk art and surrealism painting styles and is entirely original in its vision and passion. His work deals with themes of Mexican and Chicano working-class cultures and social issues that span two countries—inspired by the expressionism of Jose Clemente Orozco, Frida Kahlo, and Francisco Goya and the brooding politics and angst of the "Punk" scene. His work is personal, emotionally raw, and complex. Islas' stark depictions of rural and urban society reflect the dual realities in contemporary life, balancing indigenous rituals with the harsh and oppressive conditions of survival.
ARTIST STATEMENT
I focus my art on Mexican and Chicano culture and the social issues that confront them daily. I paint people that remind me of individuals in my life; sometimes, I depict those people or images as toys. I take my inspiration from anywhere I can find it, a dirty joke, a funny saying, or a story told at a bar. I hope to show the viewer another side of Mexican/Chicano culture that may be unfamiliar to them. I am painting experiences, some personal and some broader. I am trying to expose the harsh reality of life. I sometimes use funny imagery, but there's always a more profound message hidden for the viewer to discover in my work.
Learn more about Ricardo by visiting ricardoislas.bigcartel.com
Brandon Maldonado (Albuquerque, NM)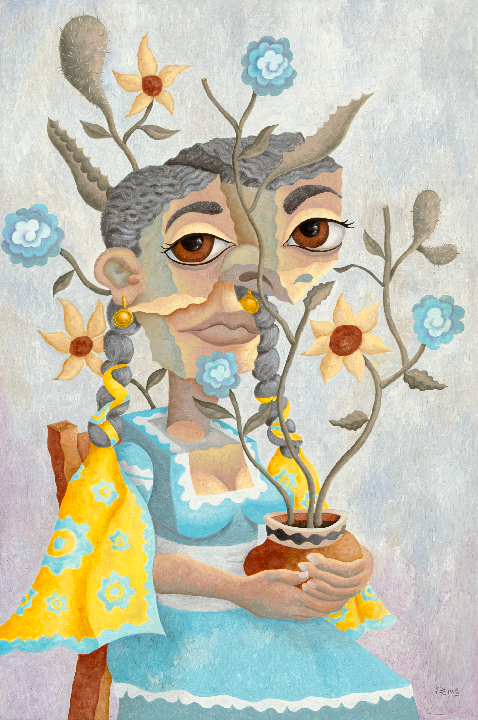 Brandon Maldonado was born in 1980 in Denver, Colorado, and raised in Albuquerque, New Mexico, where he grew up on the graffiti art of his barrio surroundings. Being primarily of Northern New Mexico descent, Brandon is fascinated with the history and culture of the land and its living and historical ties to the story of Mexico and its mestizo legacy. He rejected the academically painted southwestern landscapes, which seemed a far cry from the graffiti-filled streets of his reality. However, the culturally rich environment of New Mexico made a lasting impact on Maldonado's work, which often explores themes associated with Mexican culture.
Though primarily a self-taught artist, Maldonado holds a bachelor's degree from the College of Santa Fe in Humanities with an emphasis on Philosophy & Religion. He believes that art merely serves to express an idea; the ideas brought forth by philosophy and religion have always been the realm of the muse for artists, from the earliest cave paintings to the stained glass painted cathedrals. Maldonado is perhaps most well-known for his Día de Los Muertos-themed images, which he has explored and evolved for over two decades.
ARTIST STATEMENT
The current body of work that lies before you reflects an exploration that has roots in the graphic drawings of my early twenties. In this recent work, I use more graphic rendering and simplified forms in a desire to flood areas with mesmerizing, repetitive patterns. Perhaps it's a mid-life crisis attempt to get back in touch with the energy of my youth. Unfortunately, I haven't paid a psychologist to give me such insight. Still, I feel like a cook in the kitchen throwing ingredients in the gumbo. A dash of Picasso-esque cubism sprinkled atop traditional New Mexican retablo folk-art aesthetics and a hefty helping of the hypnotic repetitious patterning of celebrated outsider artist Martin Ramirez. All combined with the ever-present elements from Mexican history and culture. I add some texture and color sensibilities of the modern abstractionists to that mix. To some, these influences may seem vast, but the more you look at them, you see the thread that connects them all.
I believe the further you go from academic painting, the more opportunity you have for unique, expressive creativity. As Picasso famously stated, "I could paint like Rafael when I was a child, but it took me a lifetime to learn to paint like a child." The free spirit we see when looking at children's artwork is also present, to varying degrees, when we see Picasso's abstract explorations or things the art world categorizes as Folk or Outsider Art. The underlying thread is this bold expression of freedom that whispers in our ear a single word, "possibility."
Learn more about Brandon by visiting brandonmaldonado.com
Vicente Telles (Albuquerque, NM)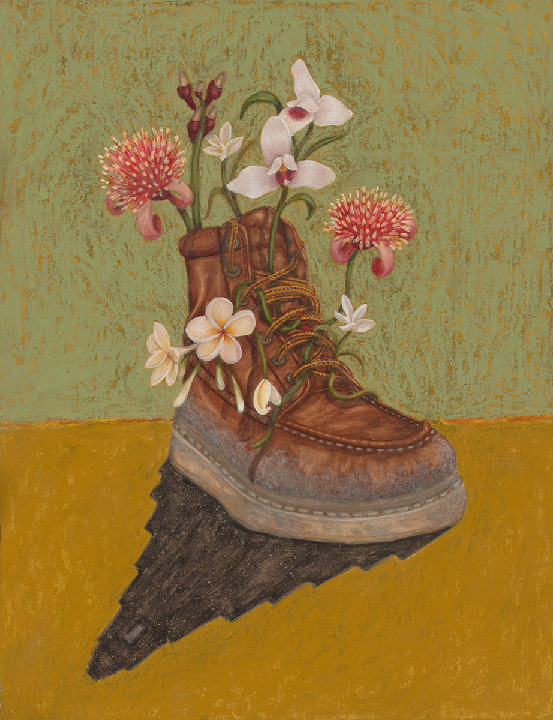 Vicente Telles, born in 1983 in Albuquerque, New Mexico, is a Santero (painter of saints) and Cultural Iconographer driven by the desire to honor the culture and traditions of his native New Mexico. He began painting traditional retablos (saints on carved wood) using natural pigments created from clays and minerals on homemade gesso, then sealed with pinon sap varnish.
His style has evolved to push boundaries and reinterpret traditional Catholic and Cultural iconography. Often experimenting and introducing new mediums such as textiles, high-quality paper(s), found and repurposed materials to create more contemporary works.
To Telles being a Santero and Cultural Iconographer means being a teacher, a student, an observer of tradition, and a maker of the contemporary. In this way, his Santos and modern works transcend religion, allowing Telles to do his part to keep his heritage and centuries of tradition alive and thriving.
ARTIST STATEMENT
The creation of each piece begins with the collecting of pigment, deposits of yellow ochre in the mountains and caves of central New Mexico, and micaceous clay pits found in the mountains of northern New Mexico.
Visual and written history has given me the necessary understanding to tell my own story of the traditional New Mexican retablo in contemporary themes with color, materials, and techniques—both developed in the 18th century New Mexico and modern. I create work to solidify my relationship with culture, heritage, and identity. I continuously educate myself to contribute to the constantly developing traditions. A strong base in the traditional methods of retablo making has allowed me to move my work forward, using contemporary and traditional materials and iconographic experiences.
In my current body of work, I combine the traditional techniques of using mineral pigments/watercolors with high-quality hand-pulled paper and fabrics to make a piece that speaks both to the tradition and the contemporary. Every aspect of my work is consistent with my culture, both in its infancy and as it exists today.
Learn more about Vicente by visiting vicentetelles.com