Past Exhibition: February 7, 2020 — February 29, 2020
Four Rooms: Jennifer Arnold, Alexandria Conchola, Lauri Garcia Jones,
and Audrey LeGalley
Four Rooms features four Texas-based artists given a dedicated space to transform into a series of installations. Curated by Rigoberto Luna each artist responded in their chosen aesthetic and medium to complement the different areas of the gallery and invite guests to step into their world, creating a uniquely immersive experience.
A Layered Space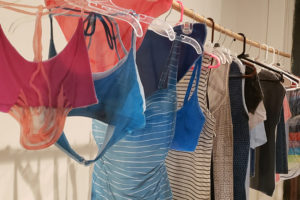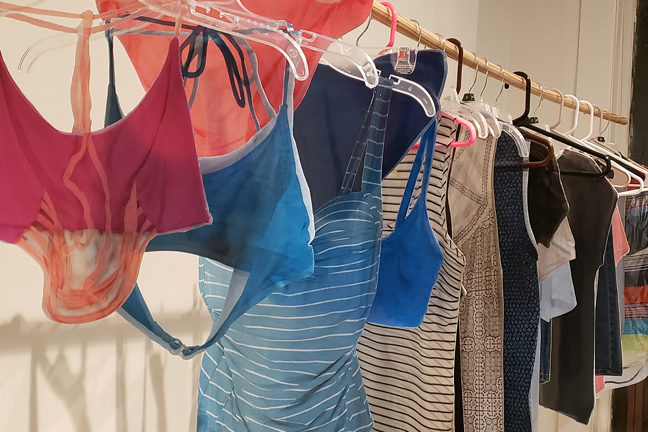 Jennifer Arnold's work is a continuation of her 2009 installation, A Layered Space. This collection of work uses a unique photographic process created by Arnold that she refers to as Canvas Peels. Arnold first discovered this new method entirely on accident and has worked for several years to master the technique to recreate better and control it. Like her original installation, Arnold's home, and life, have completely changed and has continuously evolved. In 2017, 40-year-old Arnold was four months away from celebrating her 16th wedding anniversary. She returned home from work with groceries on a Monday to the most painful news. Her husband had left, never to sleep in their bed again. He kept his key and split the mortgage. It took months to finalize, and he would return while she was at work, allegedly to gather items and see the dogs. It was a Thursday, after work that Arnold returned home to find the most jarring scene. "The closet, I shared for most of my life, was suddenly half empty. Hangers dangled like harrowing wind chimes displaying the void. The pain I felt was now visual. It was gut-wrenching; my whole identity questioned."
Jennifer Arnold was born in Louisiana in 1977 and raised in northwest Florida on the Gulf Coast. After receiving her MFA from Texas A&M University-Corpus Christi, she settled in Corpus Christi, TX, on Padre Island, where she currently resides and works. Arnold serves as Co-Chair for the Board of Directors and Chair of the Exhibitions Committee for K Space Contemporary, a 501(c)3 non-profit contemporary art space in downtown Corpus Christi. She is also a rotating adjunct professor (Photography, Art & Society, and First-Year Seminar), as well as the academic advisor for the arts for TAMUCC.
About Her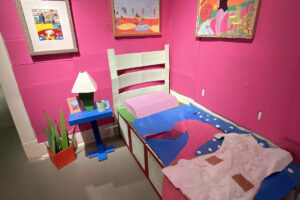 In About Her, objects and places are more vital than the figure; they share equal weight in capturing the essence of a character. Alexandria Canchola created objects with an incredible amount of focus and attention to detail. The space surrounding the central figure is just as valuable as the character itself. The work intends for the surface to become a "subject" of its own. In doing so, they take on the fascination one typically reserves for the figure. In showcasing the power our belongings manifest in expressing who we indeed are, the audience experiences an intimacy immersed in the character's space, with the curtain pulled back, and it's as if we get to know her through her things.
Alexandria Canchola is a Texas-based designer and illustrator whose work is often inspired by a fondness for storytelling, color, letter forms, and film making. Her career in the arts was not quite a straight-line path, including detours in the fields of journalism and film making. She has a bachelor's degree in Government and Journalism from the University of Texas at Austin and an MFA in 2D Design from the University of Texas Rio Grande Valley. She has completed residencies at Otis College of Art and Design in Los Angeles, California, and Zea Mays Printmaking in Florence, Massachusetts. She is currently an Assistant Professor for the Graphic Design program at Texas A&M University-Corpus Christi.
Paracosm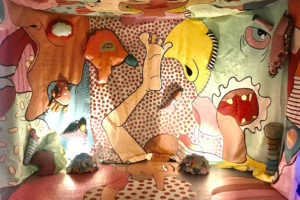 Lauri Garcia Jones' work combines the graphic styles of cartoons, graffiti, and a vivid color palette to create work that ignites curiosity, wonder, and imagination. Play and satire are two significant themes present throughout her painting, installation, and digital work. In Paracosm, Garcia Jones constructed her installation as a fantasy world for the viewer to escape reality. Often developed during childhood, a paracosm is a prolonged and very detailed imaginary world. These complex universes incorporate real-world or fictitious characters and memories. Commonly having their geography, history, and language all their own, it is an experience that is often developed at a young age, particularly as a coping mechanism and can continue as a sophisticated reality well into adulthood.
Born and raised in San Antonio, Texas, Garcia Jones is a BFA graduate of the Southwest School of Art, where she attended on a full scholarship with a focus on photography and painting.
Hallway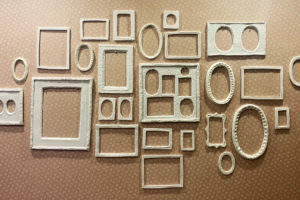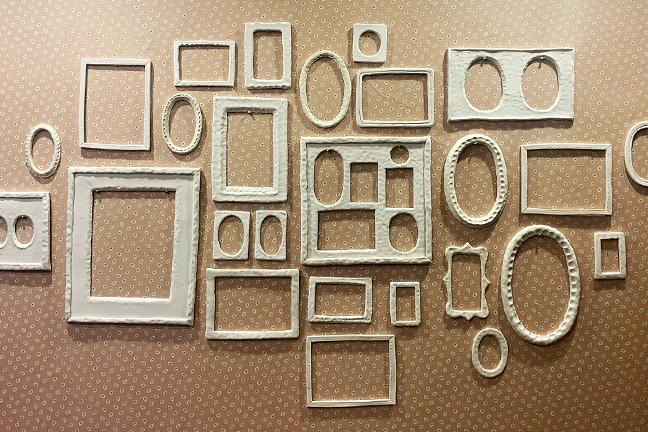 Audrey LeGalley's Hallway addresses themes of femininity, mental health, and homemaking. Through domestic materials, including frames, wallpaper, and furniture, LeGalley breaks down interior design in a metaphorical capacity. Using porcelain recreations of furnishings, LeGalley removes the structural and supportive qualities of an object. She leaves an idea and a shell-creating narrative and communicating anxious histories. In this body of work, LeGalley investigates the concept of a picture frame referencing individuals within a family. She subtly discusses relationships and distance through the interaction of the frames. Working from the idea of her grandmother's homes, LeGalley rebuilds memories of anxious histories with porcelain objects on a backdrop of wallpaper, exploring how the busy pattern can be a source of both comfort and anxiety.
Audrey LeGalley received her BFA in Studio Art from The Southwest School of Art in April 2018, where she was awarded "Best in Show" for her work in the Thesis exhibition. LeGalley has exhibited throughout Texas at spaces including Bluestar Contemporary, The Greater Denton Arts Council, and The Houston Center for Contemporary Craft. In Summer 2019, LeGalley completed a residency at the Houston Center for Contemporary Craft and is currently pursuing her MFA in Ceramics at the University of Texas at San Antonio.