Past Exhibition: January 3, 2020 — January 31, 2020
Adrian Armstrong: High's and Lo-Fi's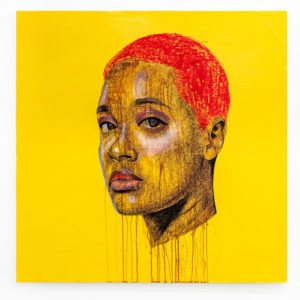 Austin-based multidisciplinary artist Adrian Armstrong (b. 1990) makes his San Antonio debut with his latest exhibition High's and Lo-Fi's. Originally from Omaha, NE Armstrong received his BFA from the University of Nebraska – Lincoln in 2014. In 2017 Armstrong, along with Akili Humphrey, co-founded Brown State of Mind, an Austin-based organization dedicated to pursuing the interests of creatives of color and their ideas.
Armstrong's work explores identity and what it means to be a black person living in modern America through portraiture and figurative practices. His work touches on topics such as depression within the black community, systematic oppression, and police brutality, but on the other side of the spectrum explores fashion, love, success, and growth. In September of 2019, Armstrong completed the LINE Residency presented by Big Medium (ATX) and The LINE Hotel (ATX) and had his first solo exhibition in Texas at Co-lab Projects in August the same year.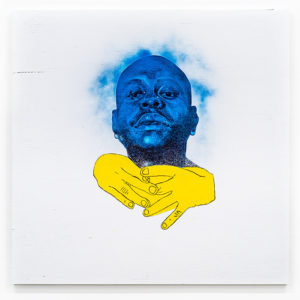 High's and Lo-Fi's is the second installment of Armstrong's multi-sensory exhibition. It features a collection of old and new paintings and drawings (including excerpts from the "We Can't Breathe" series) that explore the topic of mental health in the African American community. It is, in part, an exploration of Armstrong's struggles and a broader discussion on why the issue of mental health is often taboo within the culture. The exhibition depicts Armstrong's scenarios and experiences with depression and those of the subjects in his portraits, many of whom shared their own experiences with mental health through a series of recorded conversations. Through this combination, Armstrong hopes to convey the highs and lows of mental health issues entirely, and how they manifest themselves in ones day to day life with the intent of fostering open and inclusive dialogue.
Armstrong's ten-track EP "High's and Lo-Fi's," which accompanies his artwork was self-produced and released under the pseudonym Njune in 2019, and is currently available on all streaming platforms.