Past Exhibition: January 4, 2019 — January 26, 2019
Remember Me
With the blessing of the Castillo Family, Presa House Gallery has partnered with Con Safos • Cocina Y Cantina to Remember Manuel Diosdado Castillo Jr.. Almost a decade since his passing, Manny's legacy has lived on through the students, artists, and friends he has inspired. Former students of San Anto Cultural Arts Rigoberto Luna (Presa House Gallery) and Danny Delgado (Con Safos) have teamed up to celebrate the ten year anniversary of the passing of their mentor and friend. Together with close friends, band mates, and former San Anto Cultural Arts program members, the two-night event will feature an exhibition at Presa House Gallery and concert at Con Safos Cocina y Cantina to celebrate the life and legacy of Manuel Diosdado Castillo Jr..
Remember Me features the work of Manny's close friends, colleague's and former San Anto Cultural arts students and muralists including David Blancas, Ruth Buentello, Jose Cosme, Ernesto Cuevas, Joe De La Cruz, Nephtali De Leon, Celeste DeLuna, Gerry Garcia, Cardee Garcia, Ruben Luna, Jane Madrigal, Juan Ramos, Israel Rico, Mary Agnes Rodriguez, Mike Roman, Jeremy Sparig, Crystal Torres, Joanna Armijo Zamarron, and many more. Presa House invites any and all artists who were directly inspired or personally connected to Manny to contribute to the exhibition by submitting their artwork between the dates of December 30th – January 2nd. The public is also encouraged to share their memories, personal stories, and poems about Manny at both of these events. In addition to the exhibition, Con Safos will host a special tribute concert featuring a live performance by Manny's close friends Sexto Sol and music by DJ Kelmis playing Manny-inspired tunes and a selection of Manny's personal album collection.
One of Manny's many gifts was in building community through inclusion by inviting countless people to help paint a mural, attend a mural blessing, teach and mentor youth, learn about San Anto by visiting the offices, read a poem at a community event, or to attend a Huevos Rancheros Gala. When people attended any of these events, they experienced something deep and true because those experiences connected them to others who shared or valued our culture, history, and causes. For some, the experiences deepened and strengthened their own identities. For others, they got to be at a good party. We want to extend that spirit of inclusion to everyone who attends this event by asking you to write a letter and to display it. The letter will answer the question: how did Manny include me?
We hope this event sparks feelings and ideas that lead you to be inclusive, build upon your community, and to create something. But most of all, we hope it allows you to come together in remembering Manny.— Santiago Garcia Jr.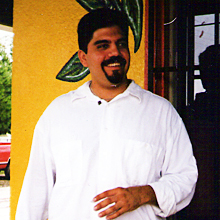 Manuel Diosdado Castillo Jr. had a vision for a brighter West Side of San Antonio. In August of 1993 he and friends Tony Ortiz and Juan Ramos collectively decided to make it a reality. With the help of Patti and Rod Radle along with many vital friends and members of the community, Inner City Cultural Arts was born. Driven by a need to provide the West Side community and it's youth with a positive outlet for creative expression, the organization established a community mural program, community newspaper, and mentorship program to solidify and record the story of a community with a long history of economic and social struggle. The West Side of San Antonio has produced some of the cities greatest and brightest talent. The organization made it their mission to seek out youth and community members in need of expressing themselves not only creatively but also with a need to tell their American experience and convey their cultural identity in a positive light.
In 1997 Inner City Cultural Arts was granted non-profit status and shortly after they renamed themselves San Anto Cultural Arts. Executive Director Manny Castillo, with an open-door policy, opened the hearts and imaginations of countless youth and uplifted artists with a desire to better themselves. In October of 2008, Manny was diagnosed with cancer and on January 6th 2009, at the age 40, Manuel Diosdado Castillo succumbed to his illness forever leaving a void in the community that was felt by all who knew him.