Past Exhibition: July 5, 2019 — July 27, 2019
Steve Parker: War Tuba Recital
Stever Parker: War Tuba Recital examines the history of conflict through sound. Combing military artifacts (acoustic locators, air raid sirens, leaflet propaganda of Dr. Seuss, coded radio transmissions, the WWII Ghost Army, and the weaponization of marching bands) with the sonic philosophies of John Cage, Pauline Oliveros, and Cornelius Cardew, items are transformed into tools for awareness, discovery, and renewal. The exhibition is conceived of as an ongoing performance where visitors realize a series of compositions using sonic headdresses, invented instruments, and graphic notation.
ABOUT THE ARTIST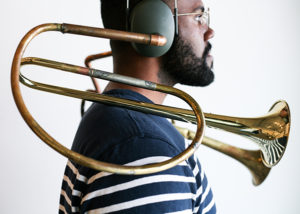 Stever Parker is an artist, musician, and curator who creates communal, democratic work to examine history, systems, and behavior. His projects include elaborate civic rituals for humans, animals, and machines; listening sculptures modeled after obsolete surveillance tools; and cathartic transportation symphonies for operators of cars, pedicabs, and bicycles. He is the recipient of the 2018 Tito's Art Prize, a Fulbright Fellowship, a Harrington Fellowship, the Best of Austin Award, and the Austin Critics' Table Award.
Parker has exhibited and performed at institutions, public spaces, and festivals internationally. Highlights include Art Basel Miami Beach, the Lucerne Festival (Switzerland), MASS MoCA, the Lincoln Center Festival, the Crystal Bridges Museum of American Art, the Guggenheim Museum, the Fusebox Festival, Tanglewood, Los Angeles Philharmonic inSIGHT, SXSW, the Stone, Contemporary Arts Center (New Orleans), the Blanton Museum of Art (Austin), the Asian Arts Initiative (Philadelphia), The Contemporary Austin, Bowerbird, and the Gene Siskel Film Center (Chicago). As a soloist and as an artist of NYC-based "new music dream team" Ensemble Signal, he has premiered 200+ new works. His projects have been reviewed by the New York Times, New Music Box, and Sightlines, among others.
Parker has been awarded support from the National Endowment for the Arts, New Music USA, the Copland Foundation, the Puffin Foundation, and the Mid America Arts Alliance. He is the Curator of SoundSpace at the Blanton Museum of Art, Executive Director of Collide Arts, and a full-time faculty member at UT San Antonio. He holds degrees in Math and Music from Oberlin, Rice, and UT Austin.