Past Exhibition: August 2, 2019 — August 31, 2019
Jesus Treviño: Behind Our Walls
Behind Our Walls alludes to physical and metaphorical division I personally experience and witness all around me. If you look behind one wall, you'll find another, and so this collection of work is my effort to look past all the walls that separate and limit us.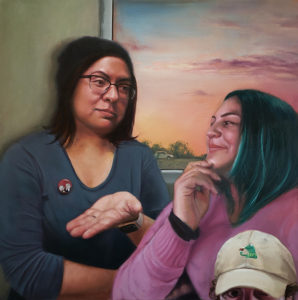 Jesus Treviño (b. 1995) was born in San Antonio, TX and raised in the border city of Brownsville, TX just north of Matamoros, Tamaulipas, Mexico. Treviño recently completed his Bachelor's of Fine Arts degree from the University of Texas Rio Grande Valley and was the recipient of a fellowship from University of Texas at Austin where he will be attending graduate school in the fall. A gifted painter, Treviño bridges traditional and surrealist painting techniques with his interest in contemporary narratives and figures of the digital age. Through his work Trevino explores societal boundaries, social barriers and fragmentation brought about by social constructs, technological overuse and lack of social interaction and understanding. His work reflects on the struggle to maneuver around these physical and metaphorical boundaries from the border, to the walls of our home, and emotional façades with the hopes of moving past the walls that separate us. Treviño has exhibited his work in juried and group shows including Figures in Contemporary Realism (Group) B&E Art Gallery, Brownsville, TX; The Rising Eyes of Texas (Juried) The Rockport Center For the Arts, Rockport, TX; The 47th Annual International Exhibition (Juried) Brownsville Museum of Fine Art, Brownsville, TX where he was awarded best in show.

Alán Serna: Casa de Cambio
Casa de Cambio is where you go to exchange currencies either from dollars to pesos or pesos to dollars. Growing up my home, was like a Casa de Cambio, a place of transition, negotiation, and exchange.
Alán Serna (b. 1992) is a mixed media artist from Huanusco, Zacatecas now living and working in San Antonio, TX. In 2018, Serna earned his Master of Fine Arts degree in printmaking from the University of Kentucky and a Bachelor of Fine Arts degree in 2015 from the University of Texas at San Antonio where he is currently a professor of painting and drawing. In Casa de Cambio, Serna uses a range of media including traditional printmaking and mass-produced ephemera to chronicle contemporary issues of locational identity, personal and political immigrant narratives, and themes of biculturalism, acculturation, and assimilation. Utilizing views shaped by his bi-national upbringing Serna creates a visual language that allows him the ability to process his own experiences growing up in the United States and Mexico while remaining accessible to the viewer. Serna has participated in local and national juried, group, and solo shows including exhibitions in Texas, Kentucky, Georgia, California, Tennessee and New Jersey. Selected exhibitions include De Aqui y De Alla (Solo) Bolivar Art Gallery, Lexington, KY; Comida es Medicina (Group) Galería de la Raza, San Francisco, CA; Tejanos: The Border Crossed Us (Group) Texas Christian University, Fort Worth, TX; Images of Power (Group) Freight Gallery, San Antonio, TX. In 2014, Serna and his wife artist Madison Cowles co-founded Feral Editions, a collaborative printing press focused on fostering a strong sense of community through printmaking.