Past Exhibition: March 3, 2017 — March 25, 2017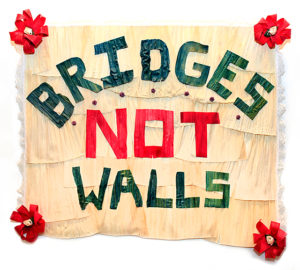 Suzy González: Discolored, Misshapen, Broken
Through the lens of ecofeminism, I search for similarities between marginalized groups of people and that of animals and the earth, longing to regain these intuitive connections. I find interest in the decolonization of one's diet, or a desire to return to the plant-based nourishment of our ancestors. I examine the complexity of what it means to portray a subject or an object, and critique historical nude painting through a subversion of the figure. My work manifests as hybrids of painting and sculpture, feeding on the middle ground. I'm attracted to a collage aesthetic, as it allows for the healing of a violent fragmentation. Using both traditional folk and fine art materials, I consider hierarchies of materials and question gendered ideas of nature and culture.

Remembering a time when I would help my mother pick out the "bad beans," I've realized the tendency to discard those that are seen as discolored, misshapen, or broken. This can be seen as a metaphor for societal difference and acts as a starting point for the exhibit. The threats of our current political situation have resulted in a loss of faith in government for many of us. Through chant and ritual, we can gain a new faith in the people and the power we collectively hold. In creating decorative protest signs, I fuse art and activism and mark a chapter in time of our contemporary civil rights struggle.
Suzy González received her MFA from the Rhode Island School of Design and her BFA from Texas State University. She has attended residencies at Vermont Studio Center, the Trelex Residency at the Tambopata Research Center in Peru, The Wassaic Residency, and most recently, the Studios at MASS MoCA. Her latest exhibitions include the 6th Chicana/o Biennial at MACLA in San Jose, CA, United We Are One at the Plaza de Armas in San Antonio, TX, Mestizx Nation, a collaborative exhibit with Michael Menchaca at The University of Connecticut, and The Art of the Animal at the Animal Museum in Los Angeles. She is half of Yes, Ma'am zine who recently organized The Nasty Women Exhibition in San Antonio, TX, where she currently lives and works.
Ruben Luna: Un Rinconcito

Luna draws inspiration from the creative challenge of generating new objects from meager resources. Call it bricolage, rasquache, jugaad, or hack; many cultures reference the necessity to seek a simple work-around that sometimes requires one to bend the rules. That ability to be resourceful and "make do" is a common theme in Luna's work. He innovates inexpensive, readily available objects into personal artworks that pay tribute to a person or story in his life.
Ruben Luna was born and raised in San Antonio, Texas. He has worked as a museum art preparator for the past 20 years and is currently the Head Preparator at the McNay Art Museum. Luna earned a Bachelor of Arts degree in Art History and Criticism from the University of Texas at San Antonio in 2012.
Allison C. Valdivia: Vestiges
I am exploring the heartbreak and disarray that occurs between broken families. I see the constant pattern of absence with the fathers, husbands, and lovers in my family as a generational absence. I uncover old family photographs, and blow the tiniest of them up into a larger size, exploiting the void that has occurred in our lives. Some of the photographs I've recovered show a trace of an action, having been ripped up, or cut away, or scotch taped. These actions act as a narrative for me, as I play the part of the historian trying to understand what took place chronologically throughout my family history.

I often find myself looking to the past, looking to my family and culture to find a sense of who I am. As a Latina, I feel a sense of guilt at times that I didn't grow up knowing about my culture, about my family's history. Growing up a military brat and an artist, I have felt a lot of pressure from my family, as I have strayed far from their concept of the ideal. In response to their rejection, I have felt an absence: myself in their lives, and them in mine. I am fascinated by the idea of motherhood, the relationship between a mother and a child, and the impact that the relationship has on both individuals. I am fascinated by both the idea of family and lack of family. Coming from a broken family, I try to see all perspectives, from the hurt child with the lack of the parent to the parent without a child. The absent father. The absent mother. The motherless child. The childless mother.
Allison C. Valdivia is a visual artist and former military brat who found her way to San Antonio, Texas. She received her Bachelor of Fine Arts degree at the University of Texas in San Antonio, graduating in the Spring of 2016 with a concentration in Painting/Drawing and a minor in Art History. Her work has been exhibited throughout San Antonio at Provenance Gallery, R Space, High Wire Art Gallery, and The San Antonio Art League Museum. She was featured in UTSA's College of Liberal and Fine Art's 30th, 31st and 32nd Student Art Exhibition at UTSA's main gallery. Her work has been selected for shows such as Print Austin's "The Contemporary Print 2016" exhibition at Flatbed Press + Gallery, and Delta National Small Print Exhibition at Bradbury Art Museum, Jonesboro, Arkansas. She recently exhibited in Print Austin's "The Contemporary Print 2017."