Past Exhibition: November 3, 2017 — November 26, 2017
Ángel Lartigue: La Ciencia Avanza Pero Yo No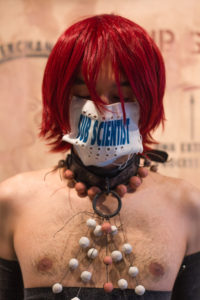 Ángel Lartigue (Houston, TX), La Ciencia Avanza Pero Yo No (Science Advances But I Do Not) marks Lartigue's first time exhibiting in San Antonio and features an ongoing collection of works involving performance, photographic documents, and sculpture. The exhibition has been on view at the G Spot Gallery in Houston and Box 13, where he is currently an artist-in-residence.
Concerned with the rapid advancements of modern scientific technologies, Lartigue creates interactive installations that transform the space into ritual environments, often taking visual references from the history of popular Science, Art, and Religion.
 The centerpiece of the exhibition is Lartigue's ritual demonstration of the Sub Scientist Booth. Lartigue invites spectators to his altar/lab to participate in extracting and swapping raw DNA substances with each other via saliva cells through a 5-minute process using only household materials like salt and water. These DNA samples are later stored and integrated into artworks, including Lartigua's handmade abacus-like structure made from found, dug-up, natural red clay, and wax thread.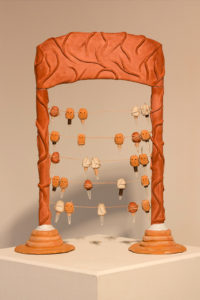 Additionally, many works from past exhibitions will display the transition and evolution of Lartigue's work, including his striking photographic series "Self-Portrait as I were Muertx." The series documents a solo performance in which a Lartigue lays dead in a variety of desolate scenes. At the same time, a second character, also Lartigue dressed in black, is seen holding blossoms over his corpse.
Lartigue attended the University of Houston and has exhibited at Rudolph Blume Fine Art Gallery (HTX), Alabama Song (HTX), and the Blaffer Art Museum (HTX).
To learn more about Angel visit Angel-Lartigue.com
Exhibition photos credit: Tere Garcia