Past Exhibition: December 1, 2017 (One Night Only)
UTSA New Media Collective Presents: REHAB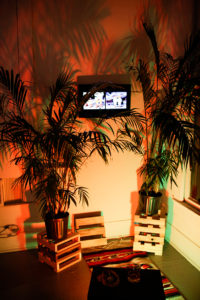 REHAB ​is ​the ​latest ​and ​greatest ​art ​from ​members ​of ​UTSA's ​New ​Media ​Collective. ​Celebrating ​its fourth ​year, ​the ​New ​Media ​Collective ​has ​included ​some ​of ​the ​country's ​brightest, ​nationally recognized ​artists ​proving ​the ​collective ​as ​a ​leading ​member ​of ​the ​San ​Antonio ​arts ​community. This ​show ​will feature ​an exhibition ​of ​performances ​and ​multimedia ​installations ​and will act as ​a ​space ​for ​it's ​members ​to ​engage ​with ​community ​outreach.
The ​UTSA ​New ​Media ​Collective ​is ​headed ​by ​Professor ​Mark ​McCoin ​and ​includes ​advanced undergraduate ​and ​graduate ​students ​from ​the ​UTSA ​Department ​of ​Art ​and ​Art ​History. ​Founded ​in 2013, ​members ​in ​the ​collective ​explore ​how ​art ​grows ​beyond ​formats ​of ​traditional ​media ​such ​as sculpture ​and ​painting ​to ​create ​works ​that ​push ​the ​boundaries ​of ​art ​happening ​now.
Exhibiting artists: Alexandra ​Williams, ​Augustine ​Chavez, ​Eric ​Ryberg, ​Gabi ​Magaly, Houston ​Fryer, ​Jayné ​Valverde, ​Jen ​Seo, ​John ​Dalton ​Atkins, ​Juan ​Vallejo, ​Kristen ​Murphy, ​Martín ​C. Rodríguez, ​Sonya ​Marie ​Sky, ​and ​Verena ​Gaudy.