Past Exhibition: November 6, 2021 – November 27, 2021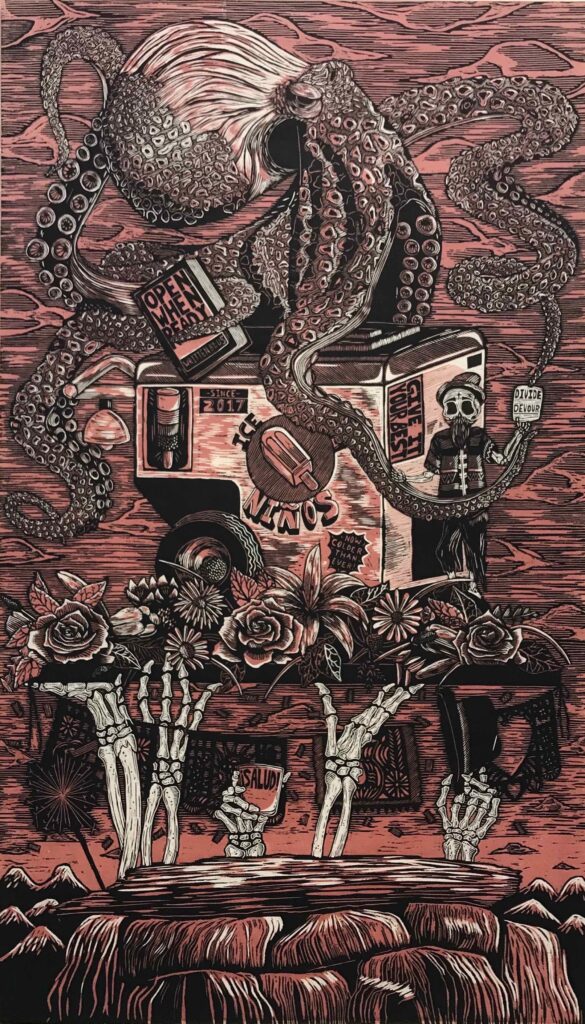 Ben Muñoz (b. 1993) is a largely self-taught Dallas-based artist and art instructor whose studio practice primarily focuses on printmaking. Originally from Corpus Christi, Texas, Muñoz's work reflects his Mexican heritage, upbringing, and current surroundings. His iconography, often composed in a stack, symbolizes the importance and dependence on previous generations and their direct ties to the interests of today and the future.
The family element entered my practice and became subject matter because it was inescapable. It wasn't until I focused on the underlying messages in my artwork that I realized how central it is to every narrative. Our worldviews are formed by our upbringing and the people who surround us. I've probably inherited some bad habits and cycles I need to break, but I also inherited my grandfather and father's work ethic. It means I can search through my memories of my late mother to help me raise my children and use the joy of her life to push me forward in mine.
Muñoz currently serves as board president of Print Austin and is the founder/director of Familia Printshop in Dallas, Texas. Muñoz has participated in group and solo exhibitions throughout the United States. His artwork is included in several museums and private collections, including the Mexic-Arte Museum and the National Museum of Mexican Art. His work has been published in several arts and culture publications, and he regularly gives artist talks at art institutions and universities across the country.
Learn more about Ben at www.benjaminmunoz.com