Upcoming Exhibition: November 11, 2023 – December 30, 2023
Sam Rawl's artwork explores the connection between women and their bodies in the face of contemporary societal pressures regarding objectification and body standards. Her artwork challenges the conventional ideals of the feminine form by celebrating a cathartic awakening of self-appreciation of the weight our bodies carry. Each piece embraces fat bodies, conveyed through contemporary figurative art, abstracted with gestured dots demonstrating the tenderness of self-care. Simultaneously, through bold strokes and vibrant hues, Rawls proclaims an unapologetic self-worth.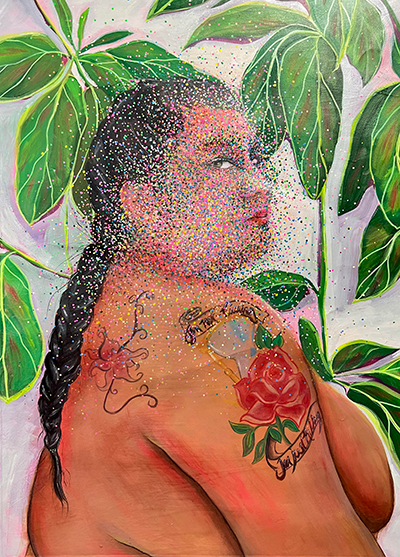 Pointillism, a meticulous technique of applying countless tiny dots, mirrors our incremental steps toward self-acceptance. For Rawls, each distinct dot of color contributes to creating a larger image; every act of self-love, regardless of size, contributes to the dismantling of our insecurities. The collective impact of these dots illustrates that self-love is not a destination but an ongoing journey, a continuous process of self-discovery and growth. Rawls' series explores these traditions as an emergence to discover and break new ground on unexplored line work and textured patterns, expressing the emotional journey of the feminine body.
Latent Blatant
Latent Blatant is a collection of introspective self-portraits that utilize light and darkness to create a visual narrative to explore Rawls's intimate emotions. "Latent Blatant" embodies the dual nature of this artistic practice, deconstructing, reconstructing, and guiding her autobiographical portraiture, which fluctuates between discrete introspection and unrestrained revelations. For Rawls, each brushstroke and meticulously placed dot allows her to blur the boundaries of her personal perception and feelings towards her body image and invites the viewers to peel back the layers beyond the surface to explore the concealed. This exhibition is a visual dialogue of self-acceptance, self-expression, the nuanced depth of personal experience, and the truths about oneself that are often masked and elude words.
About Sam Rawls
Sam Rawls (b. 1990, Brownsville, Texas) received her Bachelor's in Fine Arts from the University of Texas Rio Grande Valley in 2016 and her Master's in Fine Arts in 2021. Her work centers on feminism and self-love to portray the variety and uniqueness of each female figure to represent that everyone has the right to be comfortable in their skin. Rawls, along with Alexandria Canchola and Monica Lugo, make up the HER.MOSA Collective a South Texas-based muralist group that promotes sisterhood within the Latina culture. She is also the co-creator of the Mujer-Eres exhibition, which brings women artists from diverse backgrounds together to exhibit their work in the Rio Grande Valley annually in March. She has completed a residency with Truchas's De la Casa Residency (2021). Rawls was also one of four Texas women artists invited to present at the National Museum of Women in the Arts Texas National Committee's Spring Artist Talk (2023) at the Blanton Museum of Art in Austin, Texas.