Past Exhibition: April 5, 2019 — April 27, 2019
Anthony Rundblade: Nearer Midnight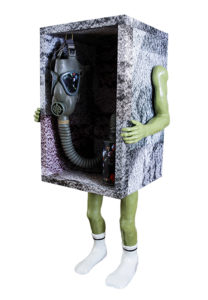 Anthony Rundblade was raised in Rosamond, California and is now living and working in San Antonio, TX. He is a graduate from The University of Texas at San Antonio with a concentration in printmaking in 2015. He has been making artwork in earnest for the past 7 years, and has exhibited in galleries and art spaces both locally and regionally. Rundblade uses printmaking to resolve installation and sculptural goals while constantly seeking new artistic territory through the influence of found printed material. In addition, Runblade is currently Studio Manager of the San Antonio non-profit residency program, Artpace.
Nearer Midnight is the third installment of a trilogy of installations beginning in 2017. The first chapter of this trilogy, Cloak Dagger Parallel Maridians, (Hello Studio, 2017) took its inspiration from cryptography. Attempting to apply abstract narratives to 'historical' images in order to create a sense of underlying code to images that can be seen as a source of nostalgia. This was an attempt to deliver a sense of unease to a history without context or understanding. The second portion of this trilogy, Catastrophe Parade (The Dirty Dark Place, 2018) made use of a found poem and watercolor, each respectively constructed of contemporary news headline clippings and the depiction of a cabin in deep isolation behind a barbed wire fence. This installation spoke to contemporary anxieties resulting from the catastrophic language in news media and was a reaction to the imagery presented within the found poem.
Nearer Midnight takes its inspiration from the reinterpretation of the song After Midnight originally written by JJ Cale in 1972. This song is reinterpreted as an ode to the Doomsday Clock, which symbolizes term 'Midnight' as the point of human annihilation. First created in 1947 by the Bulletin of Atomic Sciences, this clock acts a predictive narrative device for the end of human advancement with a focus on nuclear proliferation, though it has expanded to include climate change and economic disaster.
Through use of materials requiring thermal reactions, such as fiberglass, plastic casting, ultraviolet light for print works, there is an attempt to reflect the thermal reactions present in nuclear properties in order for the work to exist. This show uses reference to aspects of resulting nuclear catastrophe such as the Chernobyl disaster, ecological plights, eventual annihilation of the Cavendish Banana, and the dystopian fiction of Gravity's Rainbow by Thomas Pynchon.