Past Exhibition: July 3, 2021 – July 31, 2021
John Guzman: I Would Have Killed to Seen It
John Guzman (b. 1984) is a self-taught painter born and raised on the South Side of San Antonio. He works with abstract figurative oil paintings that are responsive to his surroundings and impacted by people's self-destructive lifestyles. His work uses broken, tangled, and dismantled anatomy to interpret the mental and physical deterioration witnessed throughout their struggle. Guzman sees his imagery as documentation of the damage and effects on his well-being. Often his figures are positioned within domestic architecture, confined to inform the inextricable links between the environment and its inhabitants.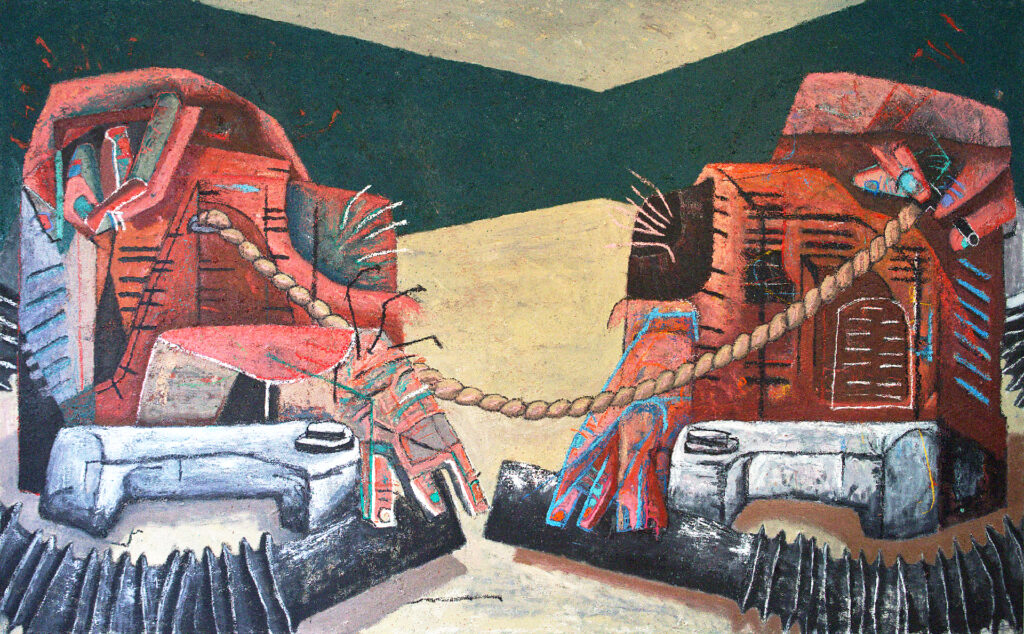 My fascination with the human form is the amount of abuse the body can endure. I've watched people push themselves to the limit, sometimes to death. My imagery represents this brutal and self-inflicted punishment and my first-hand experience of losing someone to that struggle. I was a spectator to their transformation, to the damage to their mental and physical state until they were unrecognizable.
Guzman has exhibited consecutively throughout San Antonio and completed his formal training at the Southwest School of Art in 2019. In July 2021, Guzman was one of six artists chosen as a Studio Fellow in the NXTHVN fellowship program.
Learn more about John Guzman at www.johnguzmanstudio.com
NXTHVN is a new art mentorship and career advising program in New Haven, Connecticut, founded by Titus Kaphar, Jason Price, and Jonathan Brand. This unique year-long residency and professional development program is tailored to participating fellows to expand networks, target career planning, and improve financial literacy as a working artist, combined with the time, space, and resources to focus on their creative practice.
Learn more about NXTHVN at www.nxthvn.com