Past Exhibition: June 4, 2022 – June 25, 2022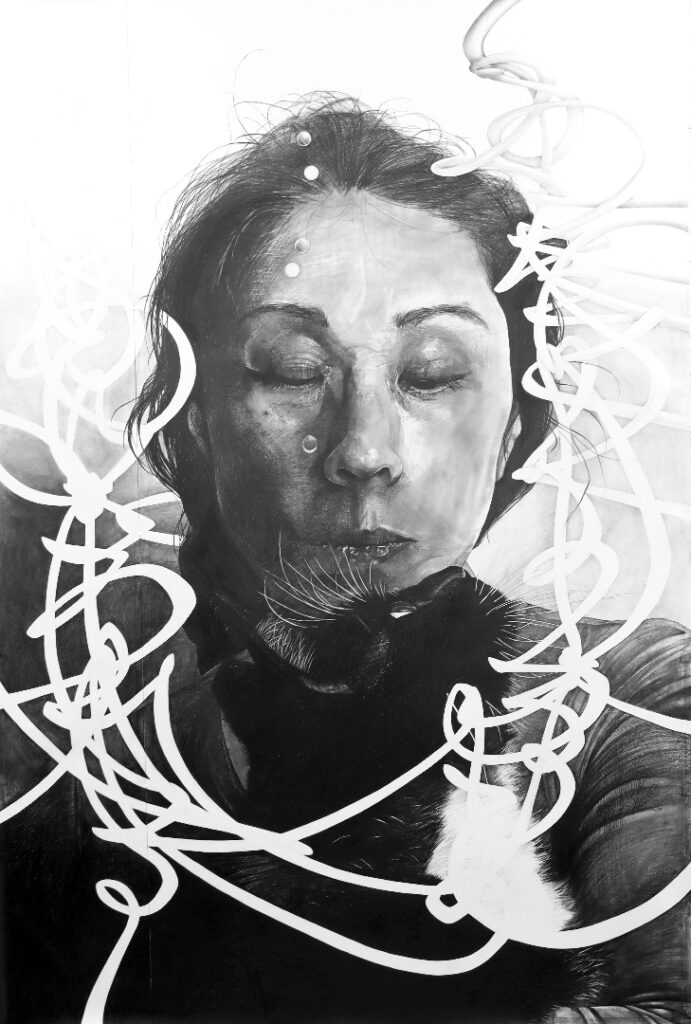 Mayuko Ono Gray is a visual artist based in Houston, TX, whose primary medium is graphite drawing. Born in Gifu, Japan, she trained in traditional Japanese calligraphy in her childhood and classical Western drawing in her teenage years. After graduating from high school in Japan, she moved to the US, earning her MFA in painting from the University of Houston in 2007.
Ono Gray hybridizes and reflects on her culturally Japanese and American life in her artwork and the evolution of her artistic path while bridging the cultural vastness of East and West. Her practice also explores concepts of existence and the nature of impermanence.
Growing up in Japan, she spent Saturday afternoons producing copies imitating the technical works of her Sensei, a calligraphy master, paying attention to the detailed line quality, the varying speed, pressure, and the angle of the brush's rhythmic and graceful movement.
While in High School and preparing for the entrance exam to the art university in Japan, she began private lessons in drawing with graphite and charcoal, practicing contemporary techniques including chiaroscuro and sfumato.
Her media expanded from the immediacy of the traditional calligraphic fluid ink on dozens of rice papers to integrating Western practices of meticulously rendered malleable graphite and ephemeral charcoal on a single sheet of high-quality cotton paper.
Ono Gray's interest and practice uniquely follow a path of classical Asian art that often combines words and imagery. Primarily using depictions of people, animals, and still-life's captured in her daily experiences alongside timeless Japanese proverbs, often expressing powerful truths that resonate with us today, confirming the never-changing characteristics of human emotions and behavior.
Traditionally in Asian writing, the calligraphic line begins at the top right and ends toward the page's bottom left. Ono Gray creates a single line written with hiragana and kanji characters intertwined as a metaphor for life; one entrance as birth, and all the complicated paths in between, one exit as death, representing the two doorways opening-closing our being.
Learn more about Mayuko at www.mayukoonogray.com