Upcoming Exhibition: May 6, 2023 – June 17, 2023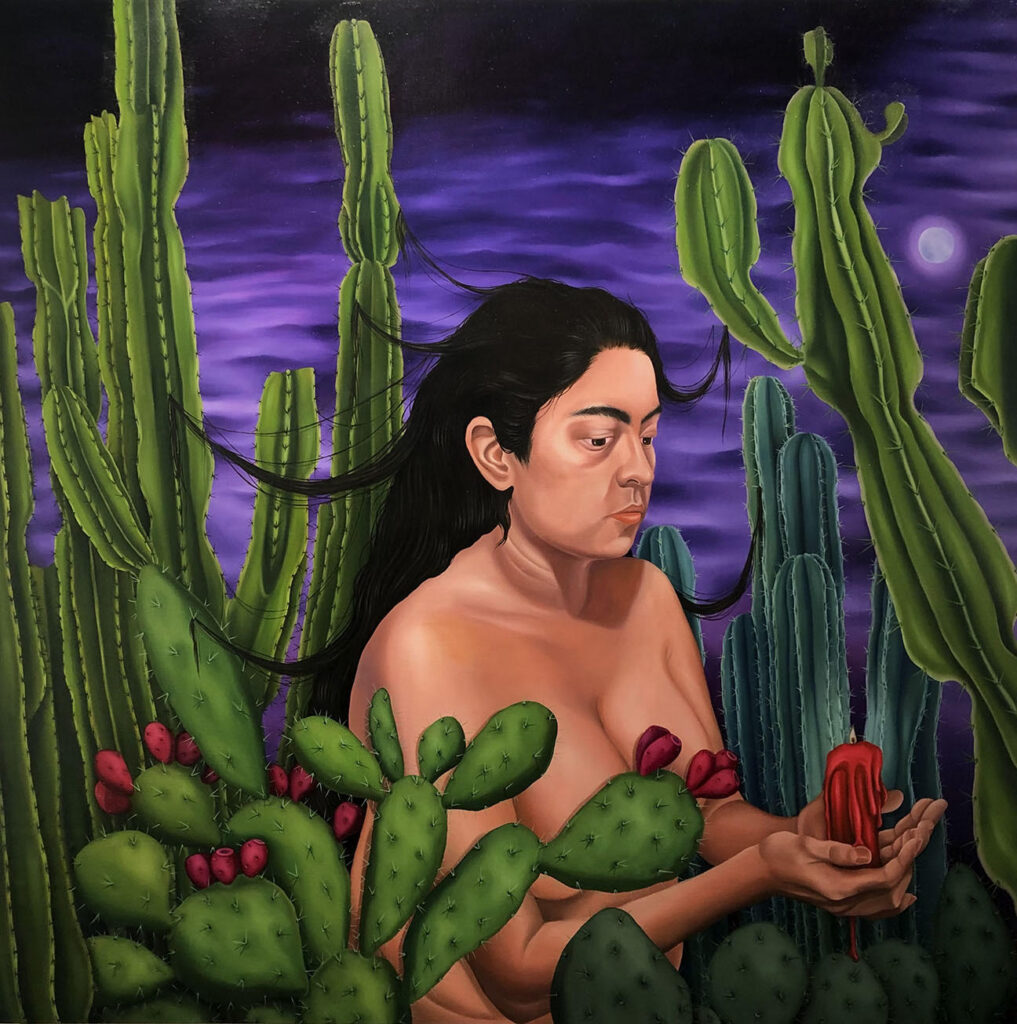 Franceska Alvarado (b. 1998) was born and raised in Corpus Christi, Texas. Alvarado received her Bachelor of Fine Arts degree from Texas A&M University-Corpus Christi. She is a. multi-disciplinary artist who focuses primarily on painting and drawing. Her work examines the physical, mental, and emotional aspects of the human condition from the perspective of a young woman. Her work largely revolves around self-portraiture, integrated with heavy symbolic imagery and unique details to personify distinct recollections. Most recently, her work delves into the intimate yet poignant moments of anxiety based on her experiences, functioning as a narrative that explores paranoia's nature through a surreal lens.
Artist Statement
This body of work is an exploratory endeavor into the psychological realm of the subconscious, which closely examines the nature of anxiety and how it manifests itself within my life. Moreover, this exposition delves into the individualistic perception of anxiety, reflecting on the paranoia surrounding critical aspects of the human condition. As opposed to verbal expression, I am interested in presenting this concept within a visual context that establishes itself on anecdotal images that directly address the often overlooked reality of mental vulnerability from the perspective of a young woman. Considering this, I have chosen to personify these intimate moments of internal distress through surreal, dreamlike representations that exemplify specific facets of anxiety based on my interpretation of these intense emotions. I deliberately center my work upon self-portraiture to further attune myself to these particular sentiments that have become concrete memories within my lifetime.

For this reason, my body of work functions as a personal narrative that subtly reveals what lies within my psyche. In contrast, individual pieces are fragments of a continual memoir that encapsulate the physical and emotional autobiographical experiences through heavy symbolism and personal details. Above all, I intend to put my audience in a surreal atmosphere that stimulates raw emotion and blurs the threshold between imagination and reality.