Past Exhibition: November 2, 2018 — November 24, 2018
Different Skin
Different Skin features the work of Jesse Burciaga, Josie Del Castillo, and Alejandro Macias, all artists from Brownsville, Texas who were mentored by Professor Carlos G. Gomez. Gomez was born in Mexico City and raised in the Rio Grande Valley. He taught painting and drawing at UT-Brownsville and UTRGV for a combined thirty years. Gomez left a lasting legacy through his work, but most importantly, through his students who have begun to establish legacies of their own. Burciaga, Del Castillo, and Macias are all gifted painters with a common love of portraiture, and each have their own unique style that they use to explore concepts of identity, culture, body image, and their experiences living in the Rio Grande Valley.
Jesse Burciaga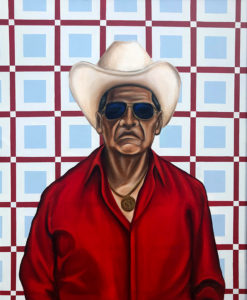 Jesse Burciaga (b. 1990) is a printmaker and painter from Brownsville, TX who received his Bachelor of Arts from the University of Texas Rio Grande Valley in Brownsville, TX. He is currently a graduate student at the University of Texas at San Antonio. Burciaga uses printmaking, oil and acrylic paint, and geometric shapes to create works that explore his cultural identity and upbringing. In his latest series Within the Chingonadas, Burciaga creates vibrant portraits of working-class heroes that reflect the heart and soul of his hometown on the Texas-Mexico border. By embellishing each characters features and setting them against geometric colored backdrops, Burciaga hopes to immortalize each subject. He invites the viewer to connect and familiarize themselves with the unsung blue-collar workers and day laborers that maintain and accept the work many average Americans will not. Burciaga hopes to emphasize each subject's level of Chingon, Mexican slang for awesome or cool. Through this glorification, Burciaga hopes each of these real people receive the recognition they deserve. Burciaga's work has exhibited in solo and group exhibitions throughout South and Central Texas, Mexico, and California.
Professor Gomez, opened my eyes artistically and introduced me and steered me toward the direction of Chicano Art. He once wisely said to me, "Why look at your neighbors for ideas, when your own backyard is full of tradition and culture." Those words have significantly influenced my work.
Josie De Castillo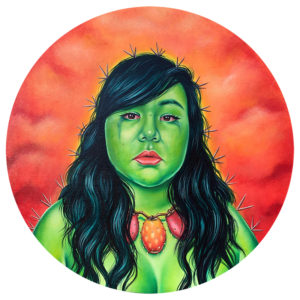 Josie Del Castillo (b. 1992) is a Brownsville portrait artist who received her Bachelor in Arts from the University of Texas Rio Grande Valley, Brownsville, TX and is currently pursuing her Master of Fine Arts degree from University of Texas Rio Grande Valley, Edinburg, TX. Del Castillo's work is inspired by the people she admires most and can often be analyzed as a reflection of herself. Self-worth and personal insecurities are common themes for Del Castillo, much of her work often deals with the subjects of mental health, self-esteem, and growing up in the Rio Grande Valley. For Del Castillo, the journey of acceptance and the understanding of mental health, anxiety, and depression are critical components of her work. Del Castillo, who has struggled with issues of body image and self-esteem, finds that being a portrait artist has given her a greater appreciation for the human form and self-worth and draws from her personal and emotional connection to help capture the essence of each of her subjects. Instead of emphasizing the dark connotations of mental illness and disorders, Del Castillo challenges and combats it positively and confidently with vibrant and colorful depictions of her subjects. Many of these works often include Mexican-American cultural iconography and people raised in the Brownsville/Matamoros border culture.
I took my first painting courses with Professor Gomez from 2013-2016. He taught me the fundamentals of painting, craftsmanship, and to experiment with my materials and surfaces. Although I would disagree with him on certain topics, I had immense respect for him. It was a tough love relationship, he poked at me, I poked back and that's just how it was. Encouraging me is what he did best, he motivated me to push through my insecurities and to extend myself to higher limits. I really miss him and I often imagine what he would be saying about my work today. He definitely touched a lot of hearts and impacted many artists in Brownsville with his passion for teaching.
Alejandro Macias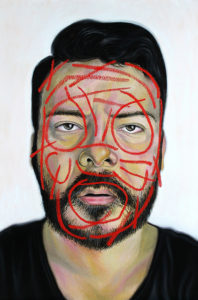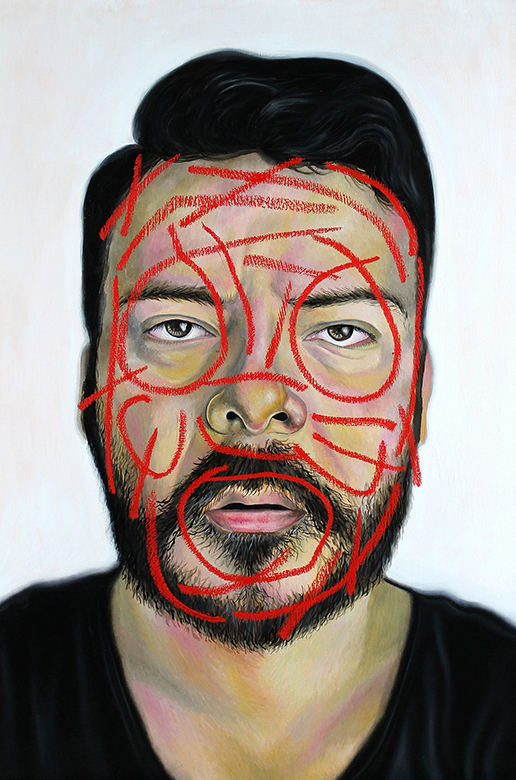 Alejandro Macias (b. 1987) was born and raised in Brownsville, TX along the U.S./ Mexico border, and received a Bachelor of Arts from the University of Texas at Brownsville and a Master of Fine Arts in 2-D Studio Art from the University of Texas – Pan American. Since 2016 Macias has been an art instructor at UTRGV School of Art following the untimely passing of his predecessor and mentor Carlos G. Gomez. Macias' work is driven by his identity as a Mexican-American artist and the current political times. His art addresses themes of immigration, diversity, ethnicity, and heritage. His most recent work explores the physical presence of the Rio Grande River as a boundary between two distinct cultures and the larger Rio Grande Valley as a fertile territory where Mexican and American cultures fuse in unique ways. His art conveys the struggle of embodying a singular identity, with works that reflect intimate Mexican values, traditions, and a conservative upbringing, in confluence with diversity, change, and progress seen as "Americanization." Macias' work has been exhibited throughout Texas and in Colorado, New York, North Dakota, Missouri, and South Korea. Macias is also member of the board of the Brownsville Museum of Fine Art and is a lecturer at the University of Texas Rio Grande Valley in drawing, painting, and design.
Professor Gomez was my mentor and introduced me to painting in 2006. He was responsible for solidifying my artistic path and for recruiting me as a faculty member for the UTRGV School of Art. Since his passing in 2016, I have been teaching painting and drawing in the same studio he taught me. That particular time, felt like a passing of the torch.
This event is sponsored in part by Freetail Brewing Co.