Past Exhibition: August 5, 2022 – September 29, 2022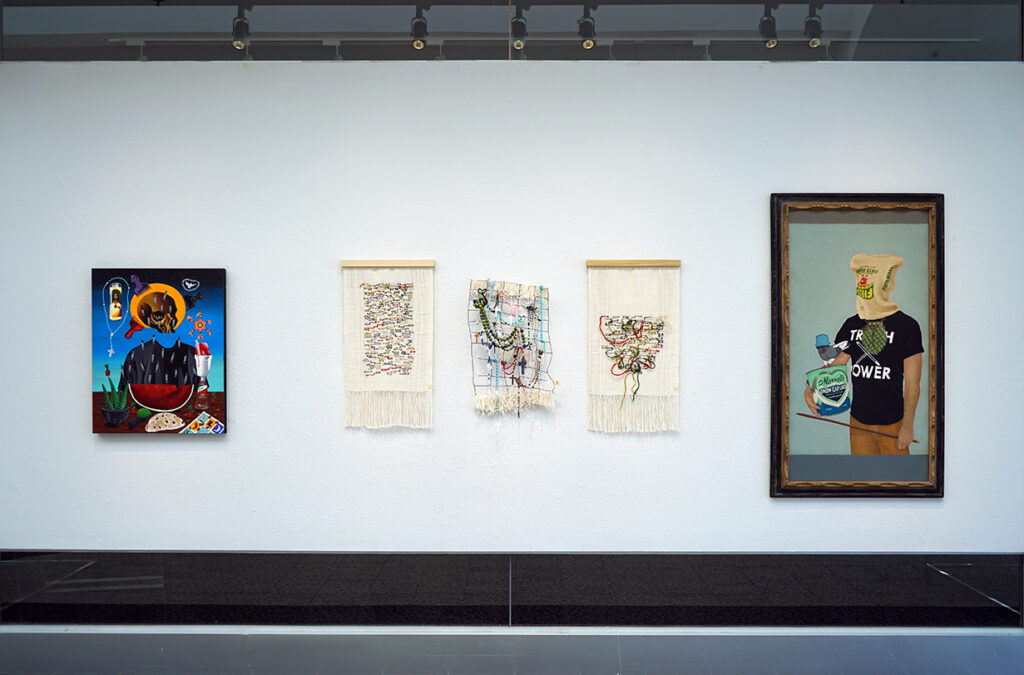 Four Albuquerque art galleries, including El Chante: Casa de Cultura, Exhibit/208, Tortuga Gallery, and South Broadway Cultural Center, will host Son de Allá y Son de Acá / They are from there, and they are from here the second phase of a two-part artist exchange facilitated by local Albuquerque artist Vicente Telles.
The initial planning for the two-phase artist exhibition began in early 2021. In April 2022, the first exhibition opened at Presa House Gallery, a three-person exhibition featuring Ricardo Islas, Brandon Maldonado, and Vicente Telles, titled Crossing Borders: Tres de Oeste. The newest exhibit brings together sixty participating artists representing New Mexico, Texas, California, Arizona, and Colorado cities distributed across the four host venues.
The opening receptions of the first three exhibitions will be held on First Friday, August 5, 2022, starting at 4 PM at Tortuga Gallery and 5 PM at El Chante: Casa de Cultura and the South Broadway Cultural Center. A live performance by multidisciplinary artist Jose Villalobos will take place at 7 PM at South Broadway Cultural Center. The fourth and final exhibition will open on Friday, August 12, at Exhibit/208, starting at 5 PM.
Son de Allá y Son de Acá is organized and co-curated by Albuquerque, New Mexico artist Vicente Telles, San Diego, California artist Ricardo Islas, and Rigoberto Luna, Director and Curator at Presa House Gallery in San Antonio, Texas.
The project aims to bridge art communities, create awareness of new voices, foster communication, increase opportunities, and expand our understanding socially, culturally, and historically between artists across state borders.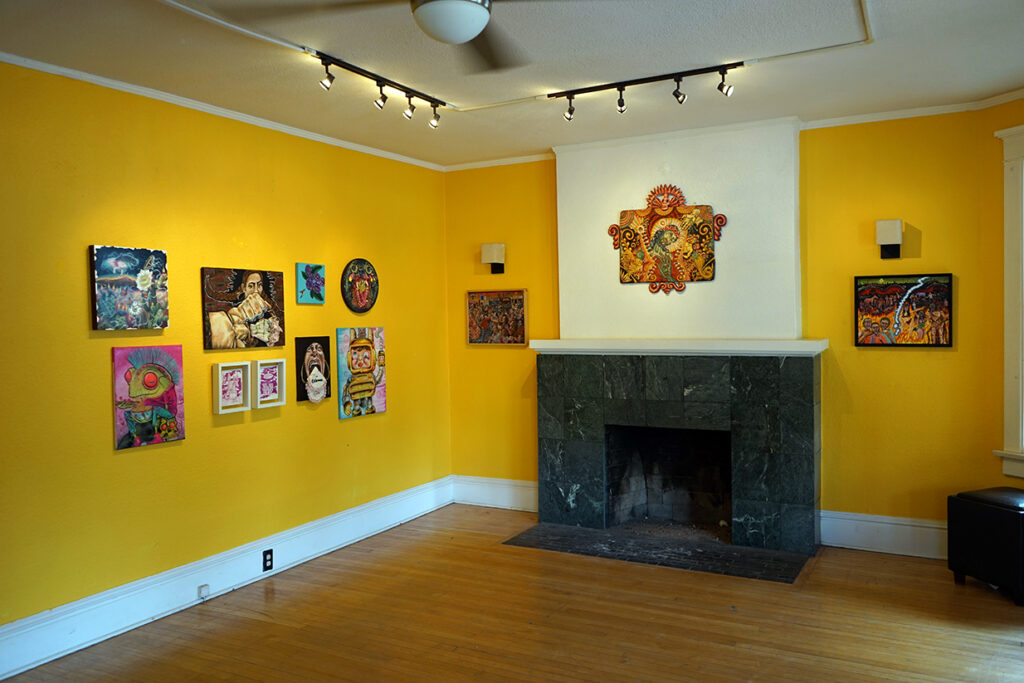 "This gathering of artists aims to bring awareness to the brown and POC creatives living and working in New Mexico that are often underrepresented and marginalized, there's a void of brown and POC contemporary art—a chasm in New Mexico. This exhibit highlights New Mexico artists in solidarity with makers from across the Southwest in communities that have experienced similar issues. The voices of these creative thinkers need to be shared, amplified, witnessed, and valued, and I feel very fortunate to be in a position to welcome these artists to my hometown."

Vicente Telles
"I'm honored to help coordinate this cross-border exchange. The states of the southwestern US share many historical and socio-political ties predating the Spanish conquest to current complexities at the US-Mexico border. It's exciting to bring together artists who, in many ways, are reflecting on similar concerns, past traumas, and new ideologies to paint a fuller picture of themselves as individuals while educating us about who we are as a region and as a people."

Rigoberto Luna
"I hope the exhibition will open up a dialogue between artists from different cities and states, potentially giving artists more opportunities to show out of their home states. We can make a more significant impact if we work together."

Ricardo Islas
The artists participating are emerging and well-established artists in their respective states working in drawing, painting, photography, printmaking, fiber, action figures, sculpture, and performance. This exhibition reveals the impact of place in shaping the identity and practice of artists working in landscapes with deeply shared histories and, at the same time, uncovering the common threads and examining the similarities of parallel histories, cultures, heritage.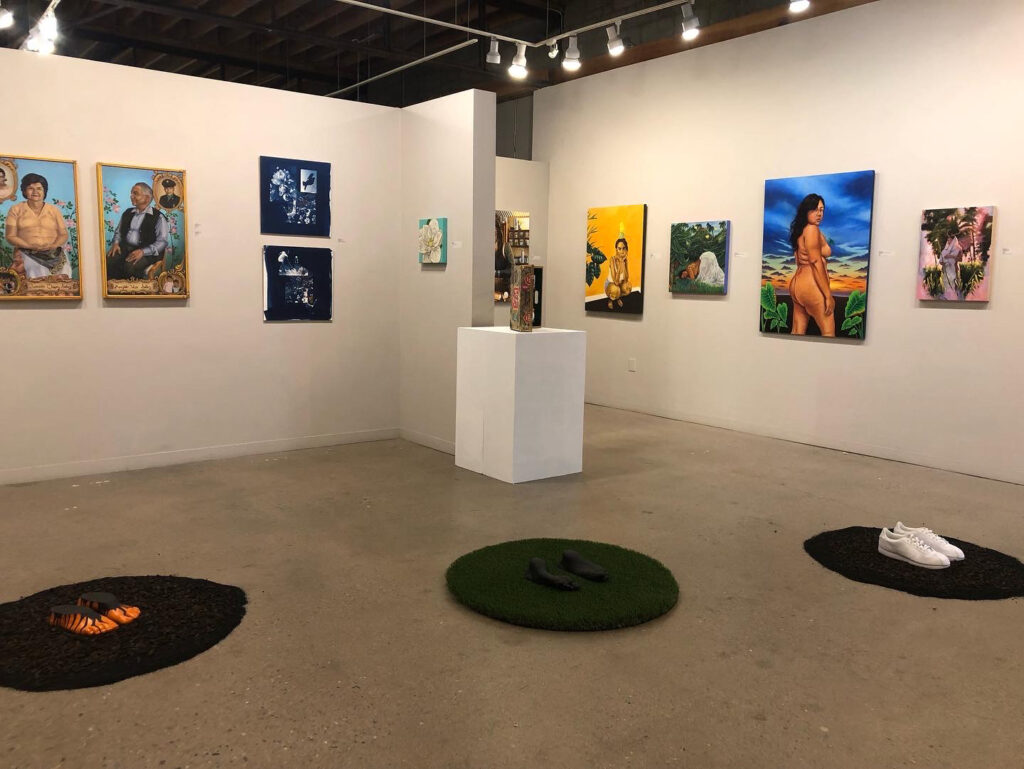 Participating Artists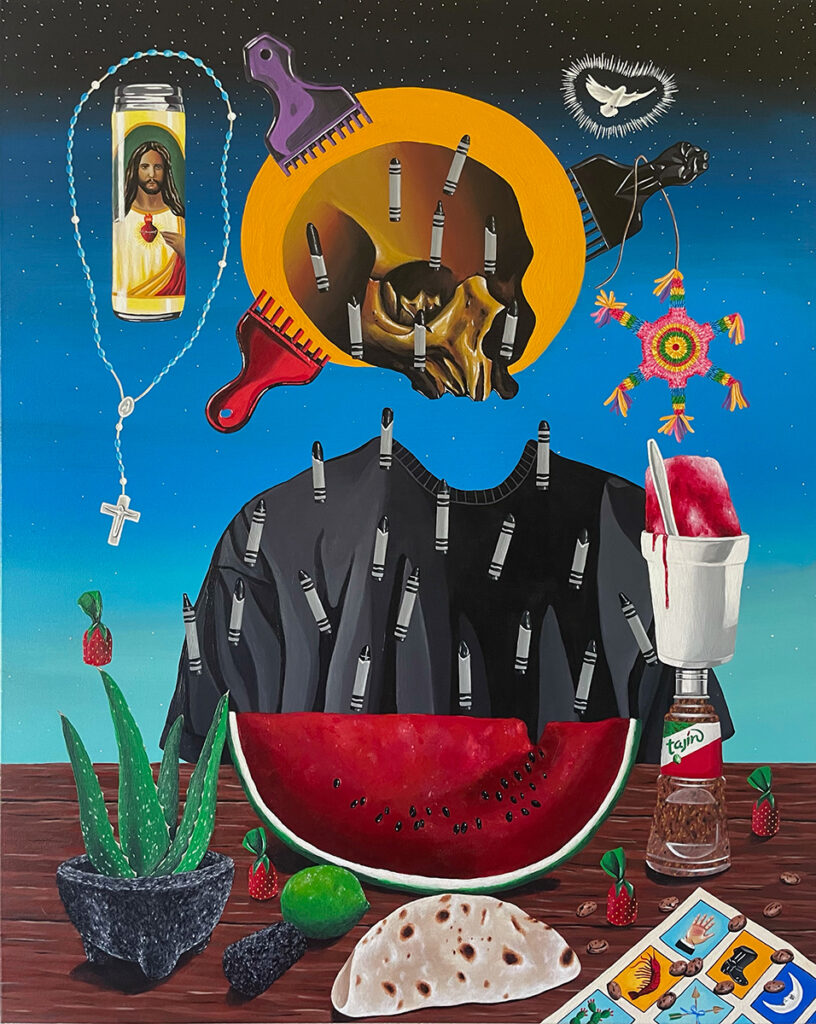 Curated by: Vicente Telles
Andrew Sanchez – New Mexico
Audrey Montoya – New Mexico
Brandon Maldonado – New Mexico
Carlos Santistevan – Colorado
Daisy Quesada – New Mexico
Desire Beltran – New Mexico
Elena Baca – New Mexico
Eric J. Garcia – New Mexico
Eric Romero – New Mexico
Ernie Lucero – California
Frank Zamora – Colorado
Gabriela Campos – New Mexico
Gerald Lovato – New Mexico
Jason Garcia – New Mexico
Jerry Montoya – New Mexico
Karsten – New Mexico
Kevin Urban – New Mexico
Lorena Salaz – New Mexico
Marco Albarran – Arizona
Rachel Tapia – New Mexico
Reyes Padilla – New Mexico
Ruben Cantu – New Mexico
Sonia Romero – California
Tomas Bowers – New Mexico
Yvonne Vanesa Zamora-Vazquez – Colorado
Curated by: Ricardo Islas
2Hermano – California
Bernice Badillo – California
Chikle – California
Hector Mexikota Villegas – California
Curated by: Rigoberto Luna
Aaron Coleman – Arizona
Adrian Delgado – California
Albert Alvarez – Texas
Alejandro Macias – Arizona
Alexandria Canchola – Texas
Ari Brielle – Texas
Cande Aguilar – Texas
Emilia Cruz – California
Eva Marengo Sanchez – Texas
Evil Dave – Texas
GachoStyle – Texas
Gerardo Garcia – Texas
Gil Rocha – Texas
Guadalupe Hernandez – Texas
Jaylen Pigford – Texas
Jenelle Esparza – Texas
Jesus Trevino – Texas
John Guzman – Texas
Jose Villalobos – Texas
Josie Del Castillo – Texas
Laurie Garcia Jones – Texas
Marco Sanchez – Texas
Rossana Romero – Texas
Sam Rawls – Texas
Veronica Gaona – Texas
Jasmine Puentes – California
Jessie Villa – California
Marino Gomez- California
Sal Gonzalez – California
Selina Calvo – California
Host Venues
Tortuga Gallery | 901 Edith Blvd SE, Albuquerque, NM 87102
Opening Reception: Fri, Aug 5, 2022 | 4 PM to 8 PM (On view: Aug 5 – Aug 27, 2022)
El Chante: Casa de Cultura | 804 Park Ave SW, Albuquerque, NM 87102
Opening Reception: Fri, Aug 5, 2022 | 5 PM to 8 PM (On view: Aug 5 – Aug 27, 2022)
South Broadway Cultural Center | 1025 Broadway Blvd SE, Albuquerque, NM 87102
Opening Reception: Fri, Aug 5, 2022 | 5 PM to 8 PM (On view: Aug 5 – Sep 29, 2022)
Live Performance by Jose Villalobos on Fri, Aug 5, at 7 PM
Exhibit/208 | 208 Broadway Blvd SE, Albuquerque, NM 87102
Opening Reception: Fri, Aug 12, 2022 | 5 PM to 8 PM (On view: Aug 12 – Sep 3, 2022)
A version of Son de Allá y Son de Acá will travel to Hecho Gallery in Santa Fe, New Mexico, from Sep 2 to Sep 22, 2022, with an opening reception on Sep 2 from 5 to 7 PM.
Organizers & Curators
Ricardo Islas (b.1970) was born and raised in Calexico, California, which is 120 miles East of San Diego, on the border of Mexico. Islas moved to San Diego in 1991, where he has been painting for the last 22 years. His work deals with themes of Mexican and Chicano working-class cultures and social issues that span two countries.
Rigoberto Luna (b.1980) is a native of San Antonio, Texas, and Co-founder and Director of Presa House Gallery. Luna has curated numerous exhibitions heavily focused and advocating for Latinx artists living and working in Central and South Texas. In 2021, Luna served as the Curatorial Assistant and Exhibitions Coordinator for the Texas Biennial and as a selection panelist for the 2022 Art League Houston Texas Artist of the Year.
Vicente Telles (b.1983) was born and raised in Albuquerque, New Mexico. He is a Santero (painter of saints) and Cultural Iconographer driven by the desire to honor the culture of his native New Mexico. To Telles, being a Santero and Cultural Iconographer means being a teacher, a student, an observer, and a maker of the contemporary doing his part to keep his heritage and centuries of tradition alive and thriving.